That's a nice recipe. Quite fancy knocking up a few of those snickerdoodles or a nice batch of lebkuchen for thrifty gifting…Oh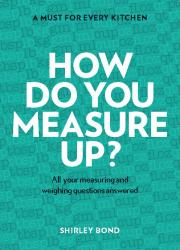 damn, it's an American book. And I can't be faffed with all those sticks of butter and cup measures and trying to differentiate said cups from their American counterparts. Mission'Family Presents On The Cheap', abort.
Until I remember a slim paperback volume bursting with info that, to the keen cook and hapless mathmatician, is as holy as the Bible. Although I'm perfectly aware there's probably'an app for that', I favour the idea of this culinary arse-saver in its physical form, sitting on the shelf as comforting and practical as the benevolent culinary saint Mary Berry.
'How Do You Measure Up?' doesn't mince its words, so don't expect romantic prose or shots of an ample-bottomed yet alluring kitchen goddess carefully balancing an artfully-rusted set of retro scales. Instead, author Shirley Bond has concisely grouped various weighing and measuring issues into chapters covering abbreviations, foreign equivalents, cooking equipment and cooking methodology. And nothing more.
And that's really all you need. A diminutive oracle of a book to depend on whether you're roasting the turkey or distributing the Christmas cake batter amongst a motley collection of strange-sized tins. Online tools are all well and good, but often they're contradictory and erratic with their proportions. And I don't mind wiping goose fat off the pages of a book. When it melts my keyboard, however…
Bond clearly has her head screwed on- exactly the domestic company you want to keep at Christmas when the hoardes are descending and you're going in all hobs blazing. She's also considered shopping concerns like quantity- excellent for countering sprout overload. Volumes for entertaining also come into their own at party season, meaning you'll be able to end up with exactly the type of  guests you want- be they sober and satisfied or sozzled and starving.
And, when it's all over and the selection box is a sad orphanage of coffee creams and green triangles, flop onto the sofa and flip to the back, where Bond has kindly detailed food energy calculations- including a handy guide to body mass index that'll have you binning the last of the stale mince pies before you can say'calorific'.  The question'How Do You Measure Up?' may well bring rather sensitive connotations post-Christmas. But it's a pretty accurate estimation this book will be invaluable in the big run-up.
ISBN: 0955891124