Ay, paisan, you feel like a nice New York slice? Well, it's not exactly the first idea I've got for food on the Kings Road, but I certainly wouldn't want to be a goombah, would I? And to be honest, three hours of looking at Piers Morgan's giant head and you may have a craving for something greasy; so it's perfect timing to grab some grub at Brooklyn Bite. Bada-bing, bada-boom.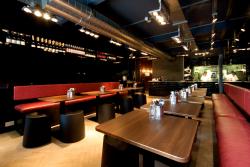 Brooklyn Bite is a pizza joint on the Kings Road that has no OTT flamboyance in its décor; it's a simply canteen layout with the focus being on the pizza. I've arrived late in the evening with Lou after watching Piers grill a washed up singer and witnessing Lou's taurine-fuelled meltdown about appearing on television. If only she looked as hot as me she wouldn't have these little moments.
The restaurant is buzzing with large parties filling the tables, sharing freshly baked thin crust pizza and washing the slices down with punchy cocktails. The tables are lined up against the walls, so I'm assuming that take-out is an option and later on we're offered boxes to take our leftovers home, which almost certainly confirms it. We're by no means too close to be conscious of other tables, which is sometimes important if Lou's on the vino. It's a comfortable atmosphere and you can have a good laugh on your table.
The menu has baguette options for non-pizza fans, but we're obviously both going to tuck into some slices, besides they're both essentially dough and toppings, right? To kick things off we tuck into three starters shared between us: garlic knots, mozzarella sticks and sausage'n peppers. There's no way of going wrong with mozzarella sticks, so I'll skip that and make a positive comment on the soft and chewy consistency of the garlic knots that are superb; but these sausages are incredible, almost chorizo like in the bite, but much more similar to traditional English in sausage taste. 
If you opened a restaurant that is heavily based on the New York Italian culture, would you choose funny words for your pizzas? Yes, exactly, that's why my pizza is called a'Fugettaboutit'. It's basically a meat feast of pancetta, ham, pepperoni and salami so I can't really see the link to the name, but I'm just chuffed at saying it over and over again to Lou. I used to be a thick crust fan but I was gradually won over my crunchy crusts that are perfect for dipping, just like Brooklyn Bite's crusts. Lou's connection with fish stretches to drinking like one and pouting like a trout in photos, but the anchovy dressing on the side Caesar salad is too overpowering, so she leaves it to me.
We got on well with all the staff, who had really made our stay fun. After sharing a cheesecake dessert that was a cracking ending to the meal, we stayed on for a few cocktails and jokes in the funky basement bar. It's not a fine-dining, a la carte restaurant, but it's good to slip into for a rich meal and some laughs over decent booze.