In 1986 Anne and Andy Wigmore, along with a £40 a week incentive from the government, began their own cheese making business. Over 25 years later, Anne and Andy are still at it and not much has changed. Lara Cory spoke to the Wigmore's about their life with cheese.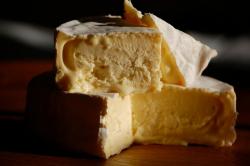 It all started for the Wigmore's when they returned home from sailling the world in a self-made yacht. Adventuring on the high seas uncovered a world of cheese riches, and for a cheese microbiologist, it was enough to spur her on to start making cheese of her own. Inspired by the pecorinos of Sardinia, Village Maid's first creation was Spenwood, a  hard-pressed cheese made from unpasteurised ewe's milk. Ever since, Anne and Andy have been quietly making cheese at their Reading workshop gathering awards and a cult following along the way.
What has changed in the way you make cheese now, compared to when you first started out?
In 26 years, hardly anything has changed in the way we make our three cheeses. Nothing has been automated just improved. Over the years we have slowly increased production to up to about 1300 cheeses a week and taken on part time staff over the years to help with the work load. We're also quite proud of our alternative solution to using disposable cheese cloths in the moulds. We did this because it felt wrong to see all those cloths going to land fill, and so we came up with a plan to reduce our waste and impact on the environment. In terms of the actual cheese, we  have decreased the size of the large Wigmore to improve even maturation. We're constantly refining and tweaking the original recipes to make improvements and keep continuity throughout the year with the changing milk over the seasons.
How does the milk change through out the year?
When cows are out to grass in the summer the milk, and cheese, is more yellow because of the carotene in the grass. In the winter when they are housed indoors and fed on hay and concentrate feed which gives higher levels of solids in the milk and can sometimes alter the flavour slightly. Usually only if they eat strong flavours like herbs or wild garlic.
What are the differences you've noticed in the market over the years both in retail and consumer tastes? 
The popularity and growing number of farm shops and farmers markets has meant that we can achieve better local availability. Also, more people are now looking for unpasteurised milk cheeses with the increasing awareness about flavour. Our cheese is thermised which is not heated as high as pasteurising but heated enough to kill off any bacteria that could be harmful if they were present in the milk. Thermising is better because it leaves in plenty of the good bacteria that are needed for better flavour. We've also noticed an increasingly younger and more discerning market. This new, enthusiastic clientele are willing to pay more for good quality cheese.And it seems that consumers and diners are driving a demand for pubs and restaurants to stock and use locally made and sourced products. Like anything worthwhile, Village Maid cheeses have good stories.
The Waterloo came about after none other than the Duke of Wellington comissioned a cheese using the milk from his pedigree herd of Guernsey cows. Anne came up with a c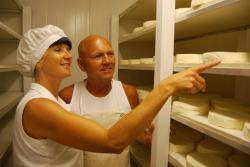 heddar style cheese called Wellington, which transformed into the Golden Saye once the Duke retired and the milk was no longer available. This washed-rind Golden Saye also eventually retired, until someone at The Times reported this fact and Anne realised she had cultivated not only a great cheese, but a cult following. Anne then decided to remedy the situation by creating the Waterloo, a cheese similar to the Wellington and Golden Saye. The Waterloo is a mild, semi-soft cheese with a distinctive yellow colour and a buttery flavour, made from the milk of the Lacey family's single Guernsey herd near Henley.
Does it takes a lot of energy and inspiration to create a new cheese?
All cheese making is about 50 per cent cleaning and sterilising so energy levels need to be high all the time. And yes, the inspiration for a new cheese is a difficult one. I had a microbiological and scientific background and so much of cheese making is scientific it's a great tool  in understanding how to change tastes or texture. Cheese is a living thing and you need to know how to treat it to affect change. You need to understand the impact that things like temperature, acidity, salt and moisture levels all have on the result.
All cheese starts off with just milk, rennet and starter bacteria and the cheesemaker can turn it in to any number of different types of cheese. I always like experimenting and sometimes have a bucket of milk alongside the cheese vat with a bit of R & D going on, but at the moment we're sticking to what we've got available because we can't make enough of the three cheeses. It's no surprise that the Wigmore's can't keep up with demand. Each of their three cheeses, is award winning and their business is widely considered to be one of the best artisanal cheese makers. It's not every cheesemaker that has one of their cheeses named by Neal's Yard Dairy, hence the name of their most recent creation, the Wigmore which took almost a year to perfect.
Have you ever wanted to expand your operations, make more cheese, have your own farm?
We have just received planning permission for an extension to increase our maturing rooms, cold store and packaging areas which will help us keep up with the demand. We've been short of cheese every week for about a year. We've also  just taken on a full time person to train up as a cheese maker.
We would love to have our own milk supplies to monitor quality more closely, but it would be impossible to milk enough sheep and cows on the scale we would need, we use 1200 litres a day. Not only that, but we don't have the animal husbandry experience to open a dairy farm and not least of all we think in the end it is best for hygiene purposes that we keep cheese making well away from the farm.
What's your favourite way to enjoy your own cheese?
Our Baby Waterloo and Wigmore are delicious baked with a sprig of thyme in the opened rind served with drizzled honey and warm crusty bread.The Spenwood is lovely with shavings on salads or melted on thick toast and served with caramelized onion chutney.
OK, so we know your cheese are wonderful, can you recommend some cheeses from other cheesemaker that you like?
We eat a fair amount of our own cheese but the only other ones we buy are from my cousin's who are also cheesemakers; The Two Hoots Barkham Blue and Rosethorn Blue. We also like Montgomery's unpasteurised Cheddar and Beenleigh Blue from Ticklemore cheese which is made from sheeps milk and is a British Roquefort.