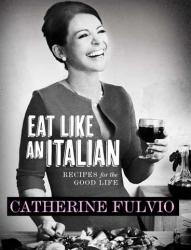 Those of you watching Nigella Lawson on TV right now exhorting us to'tumble' our groceries from bag to worktop, might be forgiven for thinking Italian food has got rather precious lately. Of course it hasn't really, Italians still make pretty much the same food they have for ages and it's still brilliant.
Catherine Fulvio sounds as Italian as a Vespa and tax avoidance, but she actually owns and runs the Ballyknocken House Farm and Cookery School in Wicklow, Ireland and is one of the country's biggest culinary TV stars. She was born in Ireland as a Byrne and Ballyknocken house is her family home.That said she regards herself as Italian enough, the book's intro talks of'our local town of Balestrate in Italy' not once but twice, and certainly seems to suggest that while Nigella may be able to drop the odd Italian phrase into conversation, Catherine can drop a whole dictionary.
The intro is a bit Janet and John about Italian food culture -' a typical meal starts with antipasto' – as if written for a Galway farmer's wife who thinks Dublin is'abroad' and is just taking five minutes rest before getting the cows in. But once past that and into the recipes, things look up.Plenty of pictures, many desaturated as is still the trend by photographers trying  to knock back the harsh HD of digital to something more pleasing, and plenty of recipes.
There are over 100 in fact. Nothing is complicated as indeed Italian food rarely is complicated, it's not a culture where food has to look fancy or be fiddly.Spaghetti with roast tomatoes and sage, oven baked (sacrilege?) mushroom risotto, herb wrapped fillet of beef with wild mushroom sauce, tuna with white beans and artichokes.
None of these are tricky, all arepretty much guaranteed to please. And because Catherine runs a cookery school, the method is clear and easy to follow. Her tips for replacing foreign items' use Donegal rapeseed oil instead of olive oil' and  'use David Llewellyn's balsamic cider vinegar' for example are about as much use to the English reader as they would be to an Italian one, but overall the book is as good for us as for the locals.
Take away the copy around the recipes, we sophisticated Brits don't just know about Italian food, many of us have actually been to Italy, and you have a sound book for the cook just starting out and who needs simple but safe.
Try Catherine's  Pancetta-wrapped chicken thighs with mozzarella stuffing