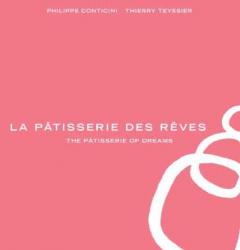 La Patisserie Des Reves opened in London in March 2014 in just the right place to find a wealthy customer base with taste – Marylebone. Already a big hit in its native France it now has plans to open more branches with one of them to be, unsurprisingly, in South Kensington that little corner of England that is forever Paris.
This book was first published in France but now appears in an English translation for the first time and has over 70 recipes for signature pastries such as the St Honore (choux pastry, cream and caramel topping) and Paris Brest (choux pastry with praline cream and a praline sauce). You can also dream longingly over Vanilla Flan, Cherry Clafoutis, Banana and Coffee Tart and lemon Cream Choux Buns. 
But why dream when you can flour up the kitchen table and have a go yourself? The recipes are clear and the instructions understandable. Of course it's impossible to deny that perfect patisserie is an art that can take many years to master, but perfection is best left to the professionals. The fact that your own patisserie may not be so exactly elegant or perfectly proportioned is immaterial; it will almost certainly taste every bit as good.
And you could always eat the photographs, they are that delicious. So don't dream, do. Get a copy of the Patisserie des Reves and start making and baking.
{ISBN:1909808172}