It's Tuesday, it's pouring.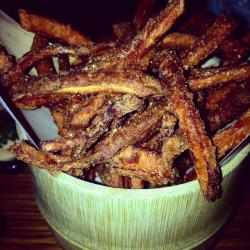 Everywhere people are scrambling for cabs, fixing their wind-swept umbrellas, ducking and diving under cover and shaking out too-long trouser legs that have fallen victim to cars and puddles. London in the rain is usually, for all that it smells fresh and earthy, enough to put a total damper on my day, but today I'm at Kurobuta Marble Arch, checking out one of London's most talked about pop-ups-gone-permanent.
You probably know that Kurobuta's first incarnation, the wildly successful pop-up on the Kings Road, was so successful it's fixing to stay. Branching out to the Marble Arch area I am curious to see how the laid-back style translates to a large-scale restaurant.
Helmed by the former Nobu head chef Scott Hallsworth, the menu is a pleasingly laid back look at all the eccentricities of Japanese cuisine. Taking inspiration from the Izakayas of Japan – cool and casual pub-like places that serve drinks and casual dinners, the relaxed atmosphere and tapas-style menu make it a very viable option for junk food fanatics and sushi lovers alike.
For a restaurant tucked away on Kendall Street it's very busy for a rainy and cold Tuesday night. Inside the chairs are made of scaffolding poles and the lights are dim, with exposed bulbs hanging low from the brick ceiling. When it comes to the interior, warm is not exactly the word I would use but the minimalist décor is very Neo-Tokyo/urbane Japan; disaffected youth, concrete and street art.
The tables are large and nicely sized for birthday meals or dinners with a gaggle of friends, and the drinks list is fairly exhaustive. The bar is pretty massive, lined with delightful saké bottles, and the cocktails are interesting, fruity and kooky – we tried the Green Bastard, a winning combination of gin, cucumber and Midori and a Saké Melon Slush, a thoroughly grown-up version of the bright blue tongue-stainer of our youth, mixed with fresh watermelon, ginger saké, honey and lime – recommended if you have a sweet, Sensodyne protected, tooth.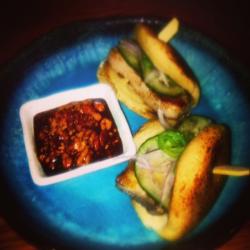 The menu is divided in to nine sections with a range of choices – salads? You betcha. Sushi? Sure. Junk food Japanese style? Can I get a ええ地獄? In some places, the menu is a little oblique – sharing dishes are labelled "Significant Others" and there isn't any way of telling how big or how much is going to arrive at the table unless you ask the wait staff, but they are polite and attentive and quick to recommend dishes and cocktails.  
When the food arrives, we go for a little bit of everything and end up with enough food to feed several armies – but the quality is so high and the dishes so well proportioned that, for the good of this review, I packed it all away with ease and delight.
Recommended by the lovely wait staff, we started with the sweet potato and soba-ko fries, flamed edamame and the broadbean tempura from the Snack section of the menu. The fries were crunchy, unfairly more-ish, and great for gesturing – this served me well in our spirited dinner debate (One Direction and the state of modern pop music). The edamame, covered in maldon salt, were totally devoured in about a hot minute and the broadbean tempura suffered a similar fate, gone in sixty seconds like Nicolas Cage and a Billy-Bob Thorton-era Angelina Jolie.
Next we went to the Robata BBQ for some heavenly pork belly steamed buns. The bun was a decently sized mouthful and the pork was so perfectly done, so delightfully soft and mouth wateringly-tender it was hard to share the two £13.00 gets you, particularly when paired with the spicy peanut sauce you get on the side.
Keeping with the piggy theme we went on to try the BBQ Kurobuta pork ribs with a honey-soy-ginger glaze – a house speciality that was more than special. The sweet-stickyness of the glaze was divine, tasty enough to tempt even the daintiest diner; while I was getting stuck in it seemed as though it had succeeded because while casting my eye around the restaurant it seemed as though everyone had ordered it – always a good sign!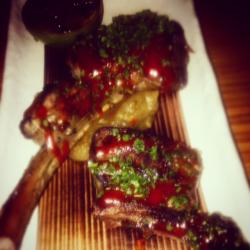 Finishing up about ten thousand stone heavier, we threw caution to the wind (what's another couple of pounds?) and went for the jelly doughnut pistachio parfait and the yuzu tart for desert. The first arrived with limoncello jelly, matcha meringue and a wonderful green tea sugar and was beyond indulgent – in a way a great example of what Kurobuta is all about, a simple dish made spectacularly satisfying by interesting flavour combinations and a fresh take on modern Japanese cuisine. The tart, a dish compromising of yuzu compressed pears served with sake ice cream, was similarly simple but delicious – an excellent end to our delicious evening.
All in all Kurobuta is a restaurant that I would definitely, loudly recommend. Delicious and inventive, the modern, urbane vibe and relaxed atmosphere make it a great place to take a date, dine alone or grab an after work dinner with friends.