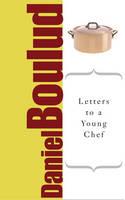 We tend to review cookbooks here at Foodepedia as not many chefs write novels, except of course these days Anthony Bourdain. However some, like Bourdain, do write autobiographies. Bourdain's own was an amusing, shocking, hairy chest beating testament to his own greatness. It was a good read, but probably put a lot of young people off becoming chefs fearing they would have to improve their knife (fight) skills first.
Boulud's 'book is a different kettle of poisson and absolutely required reading for anyone thinking of becoming a cook, or already at the lower stages in the kitchen. He calls it 'Letters to a young chef' and that's how it comes across, the well-meant, modest but unflinchingly accurate account of how he came to be where he is -one of the top chefs in America – Chef-Owner of ten award-winning restaurants – and soon to open a restaurant to sit alongside the new Heston Blumenthal restaurant in the Mandarin Oriental Hotel, Knightsbridge.
'A little rock and roll and a lot of Mozart,' he says about his own cooking, meaning that innovation and rule breaking is fine, but if you don't know and perfect your classics you will never be a great chef.
He sternly tells his young chef how it will be a life of hard work; of commitment and that there are no short cuts away from arduous apprenticeship, long hours and a dedication to technique and craft. Part memoir, part advice and at the end a classic recipe book, it lays it on the line about the high calling that is haute cuisine.
And as he points out, you may be a great cook but that doesn't mean you can be a great chef. Chefs don't just cook, they lead a team they have picked and trained themselves through the daily battle that is service. And when that is over, they are bookkeepers, budget watchers, and supplier pickers. Sometimes actual cooking is the last thing they get to do, but like a film director it's their name that takes the praise or the blame.
Reading this is exciting and daunting because it fires you with the desire to be a chef and yet also throws cold water on casual ambition. Daniel is witty, funny and his cool statements have no hyperbole just the authoritative ring that comes from a man who has done it all.
'The goal of any chef is consistency,' he says, being brilliant one day and average the next will not build a business. Better to be consistently good than to be flash in the pan. 'Precision, economy of movement, attention to detail and always learning from every great chef you meet.'
He is a great chef, as London will find out later this year. Before he comes to the UK discover how he got where he is right now. A stimulating read for the young chef in the title and a great read for food lovers, Letters to a Young Chef is a basically a letter of love of cooking.