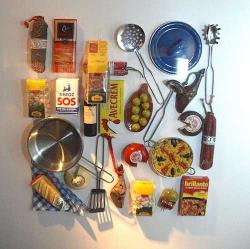 What does the name mean? The Pirate of Tapas? Does the chef look like Johnny Depp and have a cutlass clamped between his teeth? Are the prices High Seas' robbery? Do staff say 'Ahh harr matey!' in Spanish when chef calls a ticket?
Who knows, what is certain is that this second branch of the Mayfair original is a modern tapas restaurant all the way from its cool interior to its Bulli boy food. Tapas reconstructed in a way that marks it out from the patatas bravas brigade so prevalent in London.
In fact the patatas bravas are a case in point, they do serve them here but in a modern fashion. They come to table looking like the eggs in Alien; little baked new potatoes in their jackets ranged up like soldiers and with a blob of mojo picon sauce on top. This is fun, witty even, but the small amount of sauce can't really compete with the strong flavour of the spud skins. Easy to pop them in the mouth though and much better than fried potato cubes drowning in tinned tomatoes.
We're here to try these and a selection of chef Omar Allibhoy's other modern tapas, this young chef has made a mark here with food that is traditional yet freshly spun with ideas that owe as much to arch food punk Ferran Adria as Omar's grandmother.
Omar's Pulpo a la Gallega is still the classic dish from Galicia, home to some of the finest seafood in Spain, but here at Piratas the octopus is boiled as is normal but then sliced incredibly thinly before being dressed with grassy olive oil, pungent paprika, 'caviar' and served on the traditional wooden plate. The thin slicing helps offset what many people find difficult about octopus, its chewiness.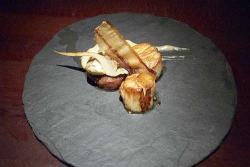 Croquetas are made correctly, I discover after lightly grilling chef about it, using the scraps of Jamon Serrano left near the bone after all the best meat has been sliced off. Well I say the best, but as any fule kno the meat nearest the bone is always the sweetest. In Spain these 'scraps' are sold to housewives to make cheap croquettes. The Piratas version isn't quite as good as Iberica's – it's a bit too creamy and a bit light on the ham, but is still good.
The influence of El Bulli is evident in a foam of Valdéon, a blue cheese from Castile-Leon in northwest Spain mixed with cream and topped with some micro grated walnuts. Foams on plates are somewhat passé now, your local restaurant probably does it and it still looks like cat sick, but the principal is sound – the aeration means that the food interacts with your taste buds in a more effective manner. Here Omar has gone the whole hog and created a dish that is all nitrogen whoofed up foam and has to be lifted out with the crisp chicory leaves provided. Chicory with its puckering bitterness is unloved in the UK but here it finally finds a purpose and a point – it's ideally shaped to be a scoop and the bitterness melds with the heavenly cheese.
Plump, juicy scallops were seared perfectly – caramelized outside, soft inside and partnered with a sliver of artichoke and bacon from the Iberian pig. That same pig donated his cheeks to an outstanding dish involving braised shallots and carrots – the cheeks slow cooked, not in a sous vide but an oven, Omar was quick to point out later, for hours and hours until they began to fall apart. Nothing on an Iberian pig is ever thrown away if chef can help it.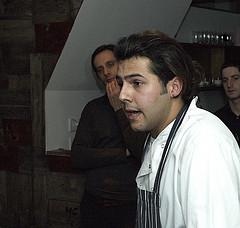 Up came lentil stew with foie gras – interesting but I don't think I'd have it again unlike broken eggs, potatoes, chorizo and garlic prawns which was a tower of taste, literally. Broken eggs equals scrambled eggs, basically, but you could have also called this a tortilla standing up; semi solid, totally tasty and with quality chorizo as you could tell from its natural skin.
Finally pan fried red mullet, confit tomato and piquillo peppers; a pretty little dish with intense tomato flavour from the confit process balanced by the piquilos which, despite being close to chillies in genus, are softer and tastier.
To end, a rice pudding which was okay but not totally great and a '2 textures' crema catalana. This involved plunging a spoon to the bottom of the glass to dredge up the two textures – stunningly good.
I like El Piratas' desire to create modern tapas in a non-clichéd setting. Omar is clearly influenced and inspired by the new age gastronomy that Spain is now famous for, but has remembered, unlike some of his contemporaries, that fireworks and showboating are not a substitute for satisfying flavours and textures.
Photos by Al Stuart