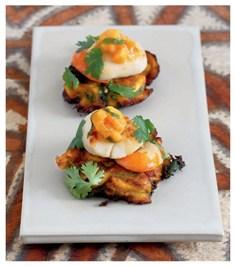 The Providores restaurant and Sipsmith Spirits have announced an exclusive three night pop up restaurant at the Sipsmith distillery in Hammersmith.
Located in the heart of the 'Marylebone Village' The Providores opened in 2001. Owned by Peter Gordon and Michael McGrath, the restaurant boasts an innovative and inspired dining experience in a comfortable and relaxed environment. Peter Gordon's fusion food has made The Providores a popular place to eat and it is this style of food he is now synonymous with. Peter's food has won him a many admirers and a string of awards. For the evenings of Thursday March 18th, Friday March 19th, Saturday March 20th Peter will be cooking at the Sipsmith distillery, an independent spirits company creating small batch artisan spirits using a bespoke copper-pot still called Prudence. Launched in June 2009, this is the first licensed copper-pot distillery in London for nearly 200 years. Jared Brown, Sipsmith's master distiller ensures every batch is cut from the heart to create the best possible drinking experience from each sip.
Diners at this pop up restaurant will arrive at the Sipsmith distillery, 'meet' Prudence, the still and enjoy what is promised to be an excellent six-course tasting menu created by Peter Gordon and Michael McGrath, each course to be accompanied by hand-crafted spirits. Jared Brown has been busy concocting spirits to create perfect partners for each of Peter and Michael's dishes.
Only 90 people will have the chance to experience The Providores & Prudence soirees, so if you are interested and intrigued you will need to book early to avoid disappointment. Tickets are priced at £90 per head to include all food and spirits, unfortunately the restaurant will not be able to cater for any food allergies. Tables will be available from 7.30pm for 8.00pm and as spaces are limited each booking can be for no more than two people.
For further information, or to book tickets, you will need to call 020 8741 2034 between 9am and 5pm.
Providores and Prudence, pop up restaurant, 27 Nasmyth St, London W6 0HA