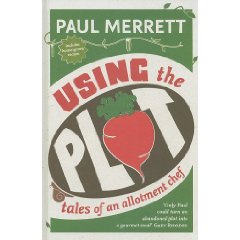 Many, in fact most, chefs talk of provenance – the source of their ingredients. It matters to them because it decides the freshness, the flavour and increasingly how guilty we feel about Air Miles clocked up to bring it to our table. Few chefs have taken the step of growing vegetables themselves though, unless it's to buy shares in an organic farm. Paul Merett, a Michelin-starred chef went all the way and took over an allotment near his home. This book is fifty percent his record of a year taming his plot and fifty percent the great recipes that he uses his produce for.
That Paul should be a Michelin-starred chef and also a very good writer is galling for those of us who will never be either, His memoir is clearly written, informative, inspiring and above all funny. He doesn't patronise us with 'holier than thou' attitudes about the soil and gardening, he admits that it's hard work and that he struggles with his kids as much as any of us, often being forced to break his rules about seasonality and not using the supermarket just to keep the peace. His kids don't yearn for fresh veg, they want something deep-fried in breadcrumbs
Allotment secured, no mean feat these days as they are in great demand, he begins the task of turning overgrown wilderness into productive patch. As the year progresses he has setbacks and triumphs as well as the dawning realisation that he can never go on holiday again as the allotment is too important to leave. A feeling all us allotmenteers have (yes I am a Digger too) can sympathise with. He also discovers the frustrations of waiting for the promised crops and at one point uses his nettles to recreate the soup he made when Head Chef at The Greenhouse. He joins the committee, makes strange new friends, fights disappointments and slugs and finally starts to cook his own produce. It's a cheerful tale well told and well worth the cover price alone.
Then come the recipes. As you'd expect they are all clean and attractive and cry out to be eaten. No need for advanced skills, just a bit of care and attention; some are borrowed from his mother and allotment neighbours. Nearly all use vegetables grown it the UK and picked in their natural season. They are all family-friendly too,
You can read this book as a great story or you can read it for the great recipes. It's just great. Find out more about Paul and his new restaurant here.
{ISBN:0007252617}