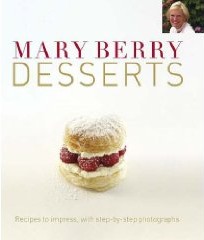 Are desserts the forgotten art? So many cookbooks are packed with astounding starters and mains, yet inexplicably tail off when it comes to desserts. Perhaps it's because we don't get excited about desserts as we did when children. Today as adults we often prefer cheese, feeling that desserts are bit bad for us or a bit self-indulgent. Once upon a time, though, everyone's mother could make all kinds of desserts, knocking up trifles in an instant or assembling a fabulous sponge cake in an afternoon. And we lapped them up.
Mary Berry is one our best known cookery writers, as opposed to famous chef. As a result her recipes are suitable for dessert tyros as much as dessert expert. She uses good old-fashioned methods like step-by-step instructions, helpful tips and useful photos as opposed to simply beauty shots. There are over 200 recipes in here from the decadent to the divine, chocolate truffle cake to raspberry sorbet, buttermilk Bavarian with peach sauce to amoretti. The pecan cheesecake is just one of the dishes that can be handily made ahead to avoid dinner party angst and can even be frozen. Sweet cheese blinis with cherry sauce uses tinned cherries, no need to have a panic attack when your local supermarket doesn't have fresh. There are plenty of cakes, biscuits and shortbreads too, something for every taste in fact and all achievable.
You'll have seen Mary on Saturday Kitchen and perhaps heard her on Woman's Hour, she radiates the calm authority of a favourite aunty and I for one would have loved to have been her nephew. These are desserts to fill the hungry gap and with Xmas coming, what better way to pass a Sunday afternoon than by planning the treats that will delight the family over teatime and beyond?
{ISBN:1405334347}