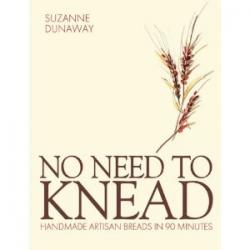 We all love homemade bread, correction we all like the idea of homemade bread. In our mind's eye we're in a warm, cosy country kitchen with sunshine sneaking past the floral curtains. Happy children scurry in and out while we, with a beatific smile on our face, shape loaves for the Aga.
In reality the kitchen is cramped, draughty and the children haven't left the X Box since dawn. There is flour everywhere, even the cat looks like a ghost, and the damn bread just isn't rising. Plus we have arms like road diggers from kneading the bread for what seemed like hours.
Kneading is the bit most home bread-makers fall down on – it's such very hard work. Sure you can use the bread hook on the mixer but, unless you've paid for something serious like a KitchenAid, the thing will dance all over the worktop and probably won't last ten minutes before emitting a smell of burning wires as a prelude to bursting into flames.
So being told there's no need to knead sounds like very good news indeed. Suzanne Dunway, an American, has been a bread maker a long time. Her bakery Buona Forchetta in Los Angeles was named one of the best in the world. So if she says you can do without kneading, then she's worth listening to. The book came out over 12 years ago but went out of print, this new version has the very useful addition of including weight and volume measures alongside the original accursed American cups of the original
Dunway's basic tenets of bread making go against what you'll read elsewhere and caused quite a stir at the time, pun intended. Her doughs are wet, very wet, she doesn't want the'baby's bottom' of shiny elastic dough. She believes a wet dough, stirred creates a bread with a more open texture and a better crust, She also believes it keeps better too.
Stirring makes up for the absence of kneading and this is still hard work, I snapped a wooden spoon trying it. But it takes less time and effort than kneading. Trying Dunway's basic focaccia bread, a bread I've made lots of time to many different recipes, I went for a fast rise although a cold rise overnight will develop more flavour, and the dough was very wet indeed. Poured into a roasting tin it would have escaped like a lively amoeba had it not been for the sides holding it safe. It rose again in twenty minutes and after making the classic holes, the best bit of fun, it went into the oven.
The result was a focaccia with a texture rather like that of a crumpet; elastic and with fairly large holes. Not exactly as I'm used to, but rather pleasant all the same and made very quickly. A good result and one which made me keen to try to some more. There are recipes for unleavened bread too, and one for Chapattis worked well albeit with frightening quantities of butter included. I made a dozen in no time and they helped a crowd of us wolf down a takeaway the same evening.
Along with focaccia, ciabatta there are pane rustico and pizza as well as baguettes, sourdough flapjacks, blini, muffins, corn bread, brioche, African Spiced bread, kulich and kolaches. Many of the basic bread doughs are fat-free, sugar-free and dairy-free and there are dozens of recipes for dishes you can make with bread – soufflés, soups, salads and even desserts such as chocolate bread pudding. Plus fun recipes to make with children.
If kneading makes you need a sit down and need a rest, then this book will encourage you back into the kitchen. A great bread making class for all of us lazy bread makers.
{ISBN:1908117214}