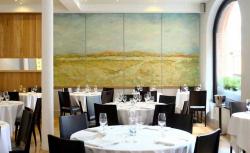 Niall McKenna is an Irish chef. He's a Northern Irish chef. But more importantly, a chef, in the truest sense of the word. His world is his kitchen, surrounded by cuts of cattle and soiley vegetables, earthy products he can weld and combine into straightforward plates of food.
The best thing about the food in Northern Ireland is its simplicity. You don't need to do any more, add any more, fanny-about with a D-rump or a courgette. Farmers and suppliers work hard in producing seasonal fruit and veg, organic and sustainable types and the kind of meat you want to eat every night of the week. They have a close bond with local chefs who will eventually be using their products to offer paying customers.
McKenna's vegetable supplier is John McCormick of Root and Branch Organics in Helens Bay, and they're a winning combination. The menu at James Street South reads like an allotment of local delights because that's exactly what it is: Kilkeel mackerel, Mill Bay lobster, Donegal sea-trout, Mourne lamb, Lissara duck and plenty of summer vegetables from McCormick's farm.
Set in an old linen mill off Bedford Street, James Street South opened in 2003. As well as the restaurant, McKenna operates The Bar + Grill which opened last year and offer diners a New York steak-joint feel or French brasserie ambience. But I'm booked for the next door restaurant, ready to pull apart the McKenna repertoire of seasonal Belfast produce.
A beef tartar starter was served with sorrel and artichoke alioli. It was a delicate piece of artistry, a self-assembly dish where the wobbling egg yolk had been separated and allowed to be placed on the tarter by the diner, as I did, mixing it in with the pulverised meat and spices. Surrounding the plate were more treats, a few small golden morsels: black pudding fritters. They don't so much 'pop' in the mouth but melt away into the rich blood teardrops they are.
My main was equally as beefy and just as well crafted: 'Antrim beef fillet, girolles, cauliflower and ox tongue'. It's modest in its aesthetics, pilled high as a leaning tower of meat, the challenge to empty the plate before it topples. The waiter asked how I'd like the steak cooked, and I said what I always say: however the kitchen is happiest serving it.
The meat was soft and tender and pink inside. There's a nutty texture from the girolles – you may know them as golden chanterelles – mixed with the creaminess of cauliflower and a rich gravy liquid. Throw in some ox tongue and you have a complete plate. A cow combo. The balance of bovine.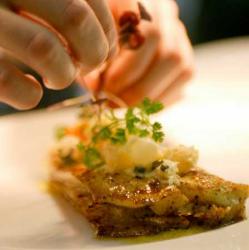 The focus on local seasonal produce is evident and rewarding. McKenna cooks using classic French techniques without pertaining unfairly on the importance of each ingredient. Each is allowed to flourish as part of a delicate balance. The best thing about this is it's all good for you. Our health is inextricably linked to how we produce and consume food. Fresh, seasonal, organic are all at the forefront. Other menu highlights include: venison pithivier with root vegetables, and saddle of rabbit with black trompette and comber carrots.
Pudding was almost a lemon meringue martini. Something clean, that juxtaposition between bitter and sweet – and alcoholic. It was far too sweet for me. Give me iron. Give me Guinness! Which I had a pint of later that evening at the infamous and historic Crown Bar. Back to dessert and I opted for macaroons, a line of five bright puffy egg-whites, the butter and icing-sugar-filling reflecting the flavour of the macaroon colouring: chocolate, red berry, mint, vanilla and caramel. All were perfect little palate-poppers with just enough sweetness to excite without being over-sugary and sickly.
If rich Belfast bovine and sweeties seem all a little too much, then the restaurant offer a very reasonable Set Menu of 2 courses for £15.50 and 3 for £18.50. This is a seriously competitive rate for what's probably some of the most painstakingly researched, reared and assembled food in Belfast. Go and learn about Belfast cooking and consume all you can from Northern Ireland's greatest assist… its food.