Snaffling yet another of Cinnamon Kitchen's smoky-as-you-like lamb seekh kebabs wrapped in roomali roti, I give silent thanks yet again that Vivek Singh decided to defy family expectation and become a chef rather than an engineer. He's looking pretty relaxed, drink in hand, as he launches 'Cinnamon Kitchen: The Cookbook'. So what, besides working a shift on the tandoor, gets the convivial chef all fired up?
You're now a highly esteemed chef in your own right- who, or what, are your biggest inspirations?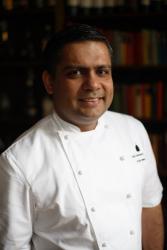 I have had several over the years, including Marco Pierre White (who I've never met), and Eric Chavot who I have known very closely for 10 years. More recently, my biggest inspiration comes from the changing seasons and the availability of different ingredients.
Who do you think is displaying most talent in London's kitchens at the moment?
Three of the most exciting young Chefs are in our kitchens! Raju's playful twists on British classics are winning us awards at Cinnamon Soho, Rakesh's talented and measurable approach keeps the Cinnamon Club at the forefront of Modern Indian cooking, and Abdul's flare is seen in everything he does!
Beyond that, Paul Foster recently did the thrill of the grill at Cinnamon Kitchen and was quite inspiring with his fresh and unique approach to cooking! Shelina Permalloo won Masterchef and recently partnered up with me for the Diwali banquet for Action Against Hunger at Cinnamon Kitchen. She is such a young, inspirational talent and I can't wait to see what she does next! 
You've just launched 'Cinnamon Kitchen: The Cookbook'- could you recommend a menu to impress using the recipes?
I'd start with the Chargrilled broccoli florets with rose petals and almonds, and move on to the Rump of lamb with garlic and spinach sauce, which is complimented so well by the Grilled aubergine with peanuts. Spiced pistachio cake is a customer favourite and a great dessert. If I was just having a late-night drink and a snack with friends, though, I'd go for a Spiced Kir Royale and some Bombay spiced veggies.
There are 150 recipes in the book, so did you 'suffer' testing- and tasting!- all the dishes?
Yes, a little bit… but nothing too ominous! This is my fourth book, so I was thankfully quite used to it this time around!
There are some ususual ingredients in the book, such as chaat masala- where are your favourite places in London to find them?
Green Street in Upton Park, Tooting, Wembley and Southall are all neighbourhoods with vibrant Indian communities and a good range of shops. More centrally, Drummond street near Euston station is a good place to know.
So which ingredients are indispensable in your kitchen- and what piece of equipment wouldn't you be without?
A good pestle and mortar- I always recommend crushing your spices in small quantities, and only when you need them. And a small brass or steel one is a great thing to have in your kitchen to grind them quickly. Mustard oil is an interesting one to cook with, but I love it to finish little dressings and salads. It gives it a brilliant punch. Onion seeds and fennel seeds are both under-rated spices- the former give a very dramatic appearance, whilst the latter add a wonderful, delicate touch to dishes. 
Turmeric is possibily the most versatile spice known to man. It's a great all-rounder to have in your cupboard. And, whether dried or fresh, red or green, chillies will add brilliant textures and flavours and bring your dish alive. And, to finish a dish, you can't beat freshly chopped coriander.
If you're not shopping when you're 'off-duty', where could we find you eating out in London?
I like Hunan for Chinese, Hawksmoor for good-quality meat dishes, and, in the suburbs, any of the Mirch Masala places.
Do you think the British public are becoming more learned and receptive when it comes to authentic regional Indian food?
YES! Over the last 10 years we have seen a lot more interest, awareness and interaction concerning Indian food. People are generally a lot more interested and want to know more. There has most certainly been a surge in popularity of regional Indian food.
Talking of regional specialities, which dishes conjure up 'India' for you?
Delhi-style butter chicken, the masala dosa popular in South India, sweet rosso gollas from Bengal, Hyderabadi biryanis, and Mumbai beach snacks like bhel puri and pao bhaji.
You've enjoyed a couple of Cinnamon Bellinis tonight to celebrate the book launch- what's your preferred tipple?
The 'Calcutta Cuppa', our new signature drink at the Anise bar! It's based on Brokers' gin, flavoured with mango chutney, Assam tea, freshly squeezed lemon juice and star anise. I think I may opt for one next…
'Cinnamon Kitchen: The Cookbook' by Vivek Singh is published by Absolute Press, RRP £25
For more information on Vivek's restaurants, visit Cinnamon Club, Cinnamon Kitchen and Cinnamon Soho's websites.