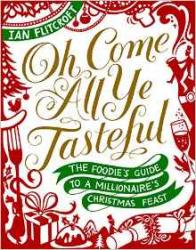 If you're looking for some impressive fare to embellish your Christmas table this year Oh Come All Ye Tasteful by Ian Flitcroft is just for you.  Smoked reindeer heart on rye bread with crème fraiche and dill hors d'oeuvres and Smoking Bishop mulled wine aperitif to start.
A main course of True Love Roast – 48 birds stuffed, then stuffed into each other – so big it could feed the whole street, served with roast potatoes sprinkled with gold leaf. Or Christmas Plum and Chocolate Bombe Pudding smothered with Duck Egg Custard. All finished off with chocolate-covered Brussels sprouts petit fours.
No?
Fear not. Unless you have the resources of a Russian oligarch, you won't be able to afford it anyway. The truffles alone will set you back the average monthly mortgage. And we haven't even started on the vintage champagnes, the rich dessert Sauternes or the 19th century tawny port preferred to accompany these extravagant dishes.
It's not your average cookbook that's for sure. Don't expect glossy mouth-watering full-colour photos. It's a small-sized tome with a few line drawings for illustration and there is more description and background than recipes.
That's not to say it isn't an entertaining read. Even if you are the microwave-the-mulled-wine-out-of-the-screw-top-bottle-type, there are some very funny facts and anecdotes in here and it's well written by Mr Flitcroft.
This is a book best consumed with your feet up in front of the fire and a glass of the most expensive wine or brandy you can get your hands on, just to get you in the groove. Anyone near squeamish might want to avoid the section on ortolans, be warned. Oh, and you might want to add a mushroom cleaning brush to your Christmas list. You never know.
Paperbooks
{ISBN: 1910266329}