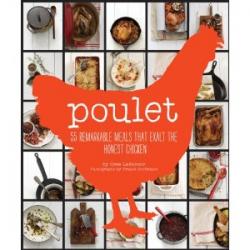 Is there any cuisine in the world that doesn't love a chicken? You see them clucking about in every corner of the globe, eating scraps and converting them into luscious golden eggs and beautiful white meat. So why don't we see more chicken in restaurants? Apart from in Nandos and KFC the humble chook tends to get passed over by chefs eager to impress with their advanced recipes. Maybe chicken is too déclassé?
It's not for Cree La Favour, a woman who divides her time between writing cookbooks with editing the New York Times Book Review. Can you imagine our female cookbook writers having a second job like that? Only in America I suspect and it should mean that her copy is free of the mimsy and middle-class self-fascination we often suffer from with our lady cookbook writers
Here are five chapters and over fifty recipes for chicken including American Chicken, Latin Chicken, Bistro Chicken, South Asian Chicken, East Asian Chicken and Middle Eastern Chicken. That's a clucking lot of recipes for sure. Remarkably not one uses the boring breast, Cree has bigger plans for her birds.
She keeps it simple because, sigh, we all lead such busy lives, and she goes for big flavours easily achieved at home. Naturally she is keen on organic, free range and all the other aspects that a well off home cook can afford to be keen on, and so there are pages devoted to what labels mean. Those of us who can only worry about the price label may want to skip on quickly.
With 160 recipes gathered into 55 recipe sets, the pages on cooking met all my needs, plenty of variety and plenty of multi-cultural flavours as befits a bird that is globally ubiquitous. Mulligatwany with Onion Flatbread, Crispy Roast Chicken with Watercress Vinaigrette, and Jerk Thighs with Jamaican Peas are just a few that spring from the page.
This may well be the best chicken book in the world for its sheer breadth of exciting recipes, although I still rather love Five Fat Hens, a cookbook of charm as well as quality too. Cree La Favour is not as an exotic writer as her name suggests and apart from the usual Americanisms that one soon gets used to – Kosher Salt, Cilantro. Eggplant etc. – the recipes are easy to get to grips with.
Call it chicken, chook or poulet, we'd all be hard pressed to do without the squawking bird of plenty. Poulet gives us even more reasons to give thanks.
{ISBN:0811879690}