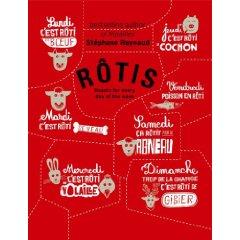 A roast for everyday? Even Henry V111 would have thought that a bit excessive. What about the gas bills for the oven? Or, in his case, the serf bills. Only the French could possibly come up with a cookbook like this.
So ca tombe bien, as they say, that I am in France writing this. We have friends for lunch tomorrow and a roast is always a trouble free way of feeding the 5000. Except in this case one of them is a veggie, but she does eat fish.
And sure enough within this book are plenty of roast fish recipes so hey ho and off to the market we go to buy monkfish and clams. While we are there let's talk about what other goodies this book offers and there are plenty.
Firstly it has a charming, playful, style. All French phrases and cute little line drawings. Normally this would have me grinding my teeth in repressed anger, but because it's French it somehow seems acceptable, like one of those Joan of Arc haircuts that look naff on British girls but are maddeningly chic on French ones.
That apart, this is all no-nonsense, mouth- watering stuff. Author Stephane Reynaud is as Parisian as poodle poo and an experienced chef to boot so we don't get the usual soppy intro about learning dishes at his grand mere's knees, or a lot of cant about seasonal and local – that would be telling his French readers how to suck eggs. He just gets straight down to it and Monday is Roast Beef, none of which take more than 30 minutes (he's using rather nice cuts). On a bed of onions or with green olives, Borscht-style or en -croute or, wonderfully, studded with garlic and with escargot. And he quickly offers a page of classic sauces such as Bearnaise and Bordelaise to go with it.
Tuesday is roast veal and here one suspects the British reader may have to skip a chapter. We simply can't buy veal the way they can in France unless lucky enough to have a proper butcher nearby, an increasing rarity. But for those who do, there are nine recipes including roast with preserved lemon, neck stuffed with stewed tomatoes and caramel roast veal.
Roast chicken is Wednesday's treat and stretches to include other birds and rabbit too. Eleven recipes to tempt you mid week, from plain and simple to duck breast served with foie gras and cepes. Roast chicken with anchovies and rosemary sounds good, as does lyonnaise style whole roast rabbit. There is a whole page devoted to clever stuffings for inside and under the skin too, including the use of Boursin, which Stephane wryly points out 'involves the complicated process of unwrapping the Boursin and stuffing it into the chicken.' Indeed, why make things hard for yourself?
Thursday is pork and those dinky little trussed up loins you see everywhere in France even in supermarkets. There's a lot you can do with pork and Stephane has plenty of ideas. There's plain and simple or roasted with bacon and comte cheese, as well as roast with brown ale and prunes, which sounds a recipe for chronic wind to me. Slow-cooked with ginger sounds more up my rue, as does rack of pork with a salt crust.
Good Catholics can rejoice that Friday has all the fish, with roast cod and smoked salmon and tarragon, roast sea bass with fennel, roast tuna with sesame and roast salmon with prawns, as well as my roast monkfish with cockles. You'd need a day of eating fish, left-footer or not, to recover from all that previous meat.
Lamb is Saturday's choice – nine recipes to make the most of ever increasingly expensive meat. Roast rack with a sun-dried tomato crust, leg with pistachios, shanks with cannelloni beans and a 7-hour roast too.
Finally it's Sunday, and as you crawl out of bed feeling like you'll never eat another roast again, Stephane is already tempting you with game – venison and wild boar. Zut alors! Time for another lie down, but he's not finished yet. Now come recipes for all the leftovers, including a cracking Sunday night sandwich of roast meat with tomato, onions and comte cheese all whacked into a fine piece of crusty bread.
And don't forget the classic accompaniments, the potatoes dauphinoise and boulanger, the courgettes with mint, peas with lettuce and bacon.
If you're one of those people who only eats roast on Sunday or, God forbid, one of those sad souls that never eat roast at all, this wonderful book will have you putting your head in the oven for all the right reasons.
{ISBN:1741965373}