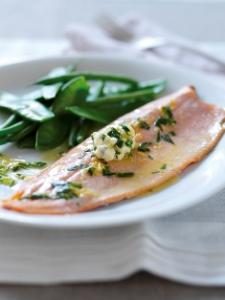 Serves: 2, preparation Time: 30 minutes
Cooking Time: 8 minutes
Ingredients:
• 90g Country Life Lighter Spreadable
• a small bunch of tarragon, chopped
• zest and juice of half a lemon
• 2 large trout fillets
Method:
1. Mix together the Country Life Lighter Spreadable, tarragon, lemon zest and juice. Chill for 20 minutes.
2. Heat the grill to medium.
3. Place the trout fillets flat on a lightly greased baking sheet.
4. Place the fish under the grill and cook for 4 minutes. Add a knob of the flavoured butter mixture to each fillet and cook for a further 2 minutes until the butter has nearly all melted and the fish is tender. Serve with a selection of vegetables.
Tip: Make additional flavoured butter mixture and keep in the fridge and use on salmon, steak or on a baked potatoes.