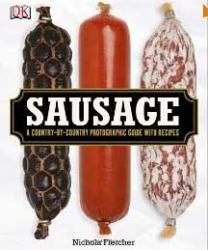 Sausages are something we can perhaps all agree on. A decent sausage makes you smile, whether impaled on the end of a sharp stick before being burnt to a crisp when camping, pooled in gravy and watched over by a mountain of mash or just grilled, sliced and slipped between the welcoming sheets of sliced white bread.
We Brits tend to think we invented sausages, or at least have the patent, although back in the days before we all became primly PC we used 'sausage eater' as a term of abuse when facing another football defeat at the hands of the master race. Of course their sausages weren't as good as ours, much wurst in fact.
Sausages circle the world, invented thousands of years ago as the best way of using up every scrap of hard won meat. Almost every culture has a sausage, be it moist and porky like our own or cured and dried as found in the sunnier parts of Europe.
Nichola Fletcher has found over 300 sausages – salamis, saucissons, kielbasa, merguez, black pudding, call them what you will. Country by country she lists them with photos to help identify the more unusual examples. Each has its identity paraded; type of meat, fresh or cooked or cured, typical size and is well-described. Except she calls the slicing sausage of Scotland, the legendary fat soaked death-dealer of breakfast, a Lorne sausage but at my Aunty's it was always called 'squair sossidge', mainly because it was
With this book you can brave the Polski Sklep, or Polish food shop, now outnumbering every other shop on our high street apart from mobile phone shops, and pick a tasty sausage with some confidence, 17 are listed including the ever-popular kabanos and the Kielbasa Torunska a delicious hot smoked sausage.
Add to this sausage fest forty world sausage recipes that all sound ace, and some handy hints and instructions on making your own banger and blood sausage, and this is one meaty book. In fact if you're a sausage fan then this book will make you burst with happiness.
{ISBN:1405398280}