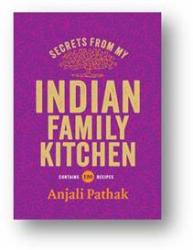 Does the name sound familiar, how about if spelt Patak? Yes indeed, Anjali is the granddaughter of one of the founders of the now massive Patak spice and sauce empire.
She grew up a willing tester of recipes around the family kitchen table and clearly learnt a thing or two about the Way of the Spice in the process so much so that her blog has become a must go-to site for anyone interested in cooking and eating Indian food with a bit of a twist. Time spent on a  chef's course  Leiths School of Food and Wine helped her acquire French and British culinary skills which cross-fertilise her recipes.
Secrets From My Indian Family Kitchen is her first book and packed not just with delicious dishes both deeply traditional and quirkily inventive, but with heartwarming stories too. Throughout she shares practical secrets she acquired from her parents and grandparents that help even the novice Indian cook achieve stunning results.
The tempting recipes included classic snacks such as Bombay nuts, Spiced chicken wings and Stuffed paneer bites to larger dishes such as chilli beef with black pepper, vegetable biryani, or the infamous chicken tikka masala. And to prove there's life beyond kulfi, there's baby apple Tarte Tatin with spiced caramel, roast hazelnut and cardamom ice cream and chocolate truffles.
Written and revised over the last seven or so years, the book brings in techniques from China and even America with chicken cooked in beer.
With over 120 recipes, this book is packed with inspiration and should do much to sell even more spice in the UK. Which can't be bad for the family, either.
{ISBN:1845339339}