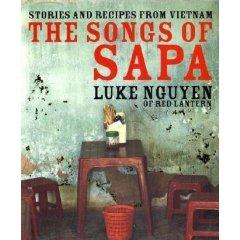 What, you might reasonably ask, is a Sapa? Is it a person, a place or a planet in a galaxy far, far away? It is in fact a town and district in northwest Vietnam and the homeland of Luke Nguyen the award-winning chef and owner of the Red Lantern restaurant in Surry Hills, Sydney. Well known across Oz as a 'TV chef' Luke is fascinated by his Vietnamese homeland and, speaking the language, is able to find and enjoy the best places to eat in this wonderful, and still to most westerners, mysterious land.
This is a personal as well as culinary journey and Luke visits family and friends, goes into the homes of Vietnamese and meets food experts and local cooks to unravel the secrets of one of the world's richest and most diverse cuisines.
There are over 100 regional and family recipes here and all are just terribly tempting. Forget the Vietnamese food we get here, too often cooked by Thai's with a clever eye on marketing, these dishes are lick the page wonderful. You know a bitter melon and fish ball soup is going to be a taste sensation. In Vietnam, as Luke explains, it's used as a 'drink' to consume during the meal to balance flavours.
As Luke travels along he is accompanied by a photographer able to point the camera in any direction and get a great image almost without trying. These pictures, along with well-lit and well art-directed food shots, are great partners for Luke's evocative stories, notes, observations and plain old musings, all of which combine to give a real sense of place and people. The book even smells attractive, thanks to quality inks and paper.
I tried cooking the Happy Hue Pancake, how could I resist? It was a beautifully crunchy dish, which made everyone smile, packed as it was with mung beans, prawns, pork belly, mint, cucumber and bean sprouts.
Char-grilled pork patties, classic street food are irresistible with the addition of fish sauce, mint and basil. A dish to liven up any garden BBQ although actually we cooked ours indoors out of the December snow.
If you have never been to Vietnam, or have and now miss the flavours that made it so memorable (although not, perhaps, the seemingly unavoidable gastric problems that come with them in a country where Health and Safety don't inspect quite as carefully as here) you will love this book as both a great recipe collection and as a gripping travel read.
{ISBN:1741964652}