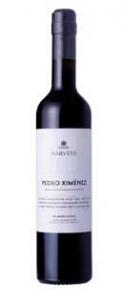 Sherry isn't just Grandma's heavy cream or the tang of a Tio Pepe
Harveys Pedro Ximénez, made exclusively from Spanish PX grapes, is a smooth, velvety dark mahogany-coloured dessert wine bursting with aromas of raisins and dried figs. Newly available at Waitrose, Harveys Pedro Ximénez is perfect for washing down the Xmas pud. It even comes in one of those lovely half bottles that tells guests you're getting out the good stuff for them.
Serve it it lightly chilled in a wine glass to match against the hot pudding, all the flavours of the pud are mirrored in the glass. Or serve a glass of chilled Harveys PX alongside a bitter chocolate mousse, sticky toffee pudding or with a platter of blue cheeses. If you're feeling really festive, pour it over vanilla ice cream but not the children's!
Waitrose wine buyer, Nick Room, says: 'Harvey's PX is a lovely old wine with lots of character and made by award-winning Caballero Beltran Domecq. It's sweet richness is perfect for spoiling yourself with dessert over the festive season'.
Harveys Pedro Ximénez is made from PX grapes grown at Harveys' own vineyards and blended in the traditional method at its bodegas in Jerez in southern Spain. Harveys Pedro Ximénez is a Very Old Rare Sherry (VORS), certified by the Denomination of Origin to be an average age of over 30 years; it is made from a Solera that was founded in 1919. This wine is full and vigorous with a lovely sweet balance, together with a long and persistent finish.
Harveys Pedro Ximénez (50cl RRP £19.99), available exclusively at Waitrose nationwide. Available only in the half bottle size (50cl), it will stay fresh for 2 months once opened – if you can keep away from it that long.