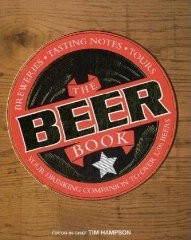 You've got to love a book that has an embossed beer mat on its cover. Well you have to love a book about beer anyway don't you? In a London where 'cooking lager' has become ubiquitous and any request for 'bitter' gets you the kind of look you might earn if asking for a Pink Gin, decent beer is having a tough time of it. Indeed breweries that have been around for a hundred years are closing and being turned into flats. So if you ever wanted to live in a brewery, chances are that if you have the cash now you can.
This is called The Beer Book and you can't do them under the Trade Descriptions act as it's a tasting companion to over 1,700 beers around the world. Apparently we in the UK guzzle back £3 billion worth of beer each year but that does include the session lagers so it may be misleading. Tim Hampson, Chairman of the British Guild of Beer Writers is the, no doubt slightly sozzled, editor and he and his team have taken a very comprehensive view of the world of beer with chapters on the key nations, the Rest of The World and feature chapters on all the main breweries, brewing themes and, perhaps most enticingly, Beer Trails which allow you to theme a holiday around a pub crawl basically. From the Cotswolds to Oregon, taking in beery destinations such as Prague and Brussels too.
It's hard to imagine a single beer has been left out. Most get a nice big picture of the bottle, so you can spot it across a crowded bar, and a short history of brewery and tasting notes. It's enough to make you rush out and try a few, and maybe a few more, and many can be found on the shelves of your local supermarket so your beer adventure can start close to home.
Wine buffs have plenty of books to satisfy their oenophilia but beer heads have pretty much nothing. This book fills that gassy gap with plenty of info and intelligence on our national tipple making it a great gift for beer-lovers, someone planning a stag weekend or just the average armchair boozer.
{ISBN:1405333014}