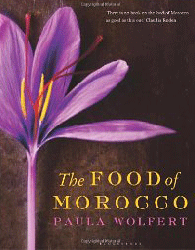 Almost as soon as Christmas day is over, the holiday adverts traditionally arrive. The TV stops pumping out images of snowy fields and robins on logs and moves into sandy beach and blue sky overdrive.
So it's appropriate now to put aside with a deeply thankful sigh Christmas books by celeb chefs showing off their perfect homes and adorable families and move to sunnier images, in this case Morocco.
North African cuisine doesn't get much of a look in on telly or in restaurants, although its close cousin Middle -Eastern cuisine occasionally surfaces along with doomed attempts to interest us specifically in Persian/Iranian cooking. The trouble with the latter is that no one really goes on holiday to Iran; even Ryanair doesn't fly there yet, so we don't know the cuisine
Morocco is still a mysterious place but it is accessible, a vast area with cooking as varied as its landscape, towns, villages, souks and medinas. Tangiers, Casablanca, Marrakech are all names that conjure up memories of classic films, as well as of Led Zeppelin, and Paula Wolfert has over 50 year's experience in country. This lavish book is another expert excursion into the cooking she loves so much.
Beginning with a chapter on essentials – the clay pots, preserved lemons, the ubiquitous spice Ras el Hanout, honeys and ten essential tips – she takes full flight into the food of Morocco. Thirteen chapters in all: salads, breads, pastries, eggs and cheese, soups, couscous (of course, course), fish, poultry, meats, beans and vegetables, desserts and drinks.
Each chapter comes packed with fine photography by the exotically named Quentin Bacon who one hopes is a real person and not a pseudonym. He's mastered the out of focus background so beloved of food bloggers with their first dSLR but he also knows how to properly compose a picture.
Salivate over 200 recipes; the slow-cooked tagines fragrant with spices, the classic grilled meats, colourful salads alive with flavour, the remarkable range of smoky flatbreads and of course desserts so sticky you become glued to the table literally as well as metaphorically..
You could call this a definitive book, it's certainly erudite and entertaining. Even the page markers are well-made, a rich cloth and not cheap nylon, and the whole book reeks of care, knowledge and perhaps a hint of saffron.
Moroccan cooking could be the next fashionable thing, real sharing food for friends, and a way into the wonderful culinary world of North Africa, a place next to Europe but not of it. Paula Wolfert is your expert guide and let's hope she gets to bring her sunshine to television soon.
{ISBN:1408827468}