Chocolate. Who's not a fan? At Christmas, be you ardent admirer or casual consumer, the brown stuff seems to be afforded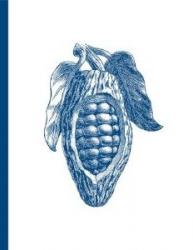 an elevated status as a valid and necessary food group. What the hell- there are far worse forms of substance abuse. And, in fact, many artisans in the finest of fettle are chocolatiers- testament to the properties of the food that fuelled Montezuma.
Take Chantal Coady. In 2008, the founder of bijou chocolate chain Rococo received a Lifetime Achievement Award from the Academy of Chocolate. Fair dos, guys, the lady's done a lot, but there's also a lot of life in the gal yet. With a cocoa farm in Grenada, and heading up both the Campaign for Real Chocolate and The Chocolate Society, one might say she knows her craft.
And I suspect it takes more than a box of naff chocolate brazils and a tin of Quality Street (not so much living up to their expectant name these days, don't you find?) to pull Chantal's cracker come Christmas. Certainly not judging from the cocoa bean illustration and the smart, no-nonsense blue, gold and white livery of the box holding her new bible,'Rococo: Mastering the Art of Chocolate'.
I do like a natty endpaper- and these are a treat, adorned with more of the inky etchings that decorate Rococo's boutiques and packaging. As I flip through the introduction, Chantal's story is so evocative I swear I can smell chocolate. Oh, wait, I can smell chocolate- the residue of a quick session of present-making. Well, it was nice to imagine it was conjured by Coady.
When I hit the'Bonbons, Bites and Bars', I almost weep for what my mis-shapen, workaday truffle efforts could have been. Goats' cheese ganache; salted lemon caramel batons; olive oil, lemon and basil truffles? Lordy, here I was thinking I was being creative with cocoa powder. The photographs are daunting but methods comprehensive enough for the likes of me. Oh bum. Why didn't I wait?
'Confectionary' restores cheer and provides inspiration- mixed-nut marzipans stuffed into dates and choc-dunked citrus peel fit the'simple-yet-impressive' bill, whilst the aesthetically-pleasing chocolate salami is really just refrigerator cake's gussied-up cousin. But, even with the easiest recipes, Chantal's focus lies firmly with use of quality ingredients without compromise.
Posh boutiques often boast a fanciful display of edible artwork you can never quite fathom- wood-grain effects; rainbow-hued, Jackson Pollock-inspired spatters and the like. The dark arts of tattooing truffles and spray-tanning moulded teddies are demystified in'Decorating Chocolate', before moving from TOWIE-like techniques to Wonka-ite wonders- chocolate 'soil' and rainbow sugar.
The pud chapter will have the resolutions broken before they're made, with mousses, cassatas and ice creams promising a sweet easing into the New Year. And surely the spring water ganache recipe has a place in even the most stringent dietary regime? The temptation doesn't let up, a litany of brazen tarts, bakes and biscuits… Oh, hang on, granola. That Chantal does look after our health.
In fact, chocolate- the good stuff, that is, does have many undisputed health benefits, what with all those antioxidants whizzing around. So it surely makes sense to introduce it as often as possible. The'Savoury' section is the most intriguing, pairing choc with cheese as canapés, and using it to enrich and add depth to stews and tapenade. Although I think I'll give the oysters a miss.
Like any mistress well-schooled in the art of the tease, Chantal pulls us back from all the glorious wickedness with a final brisk lesson- a comprehensive guide to sourcing top-notch ingredients, procuring and working with equipment, and conquering tricky techniques. There's no doubting she's mastered the art of chocolate- I reckon she's pretty much got the art of seduction nailed, too.
ISBN 0297865196
Buy now on Amazon