Manchester is cool; it gave us Britpop, Shameless, and permatans so orange you can see the neon glow from outer space. Money flashes in the hands of blinged-up urbanites, it circulates through the trendy bars and cafes and plinks into the scuffed guitar cases of city buskers who serenade shoppers as they walk past the Arndale centre. Students proliferate, clustering round vintage stores and open mics like wildebeests at a watering hole, while somewhere, deep in the university's richly cloistered bowels, Professor Brian Cox manages to atomise another billion.
But lest you forget, a walk down by the canal takes you past the hulking great factory warehouses with rows of matchbox windows looking down onto the dark water, and while it's true that many have been reborn as swanky apartments with those stupid metal balconies that you can just about stand on if you breathe in, others remain broken and defunct, sombre monuments to the din and the dirt that built the city.
The Macdonald Townhouse Hotel sits on the corner of Portland and Princess Street; tall and elegant with the kind of soaring gothic windows that suggests an architect with pious leanings, the Macdonald is the understated antithesis of those 21st century hotel blocks that resemble a giant Rubik's cube. With a mere 85 bedrooms, this former textile warehouse and grade two listed building makes a strong case for staying somewhere with a dash of character, and while it couldn't exactly be called bijou, by city standards it feels nice and intimate, so that you frequently run in to the same members of staff; this is useful if, like me, you are the kind of person who has general difficulties, and should the concierge find you trying to exit the building through the emergency fire-doors, or  attempting to enter the restaurant through a mirror, he will succeed in looking entirely nonplussed by your stupidity.
I am not entirely sure which floor my room was on but it was quite high up; light poured in though the huge window, and I could see the rooftops of Chinatown and the busy street below that leads to the Christmas markets, where you can buy cool food and get legless on Gluvine. Should you wish to avail yourself of the shops and the culture they're conveniently on your doorstep, but I was tired and it was cold outside, so I availed myself of the boutique style suite and spend a good while wallowing in a bath filled with lavender scented bubbles. A little later and a lot wrinklier, I took the elevator down to the lobby and attempted to infiltrate the hotel restaurant through a mirror.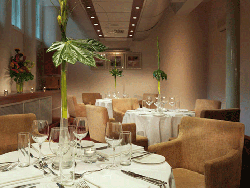 Like the rest of the hotel, 101 Brasserie has undergone a recent refurb; the space is cream and curving and reminds me of a luxury ocean liner with its raised dining platform. I was dining alone and the staff thought to seat me next to a window so that I could gaze out of it without feeling like a spare part. I kicked off with confit duck, a celery infused cube of soft meat and crispy skin with some deep fried shallot, but it was the citrusy garnish of orange and pistachio – one complimenting the oily richness of the duck, the other cutting through it – that worked so well. Cullen Skink came as little fillets of smoky, just-cooked haddock accompanied by a creamy mash, buttered leek and a perfectly soft-poached egg. I like the idea of taking rustic dishes and making them work for fine dining; again, it was the final additions of a pale green parsley veloute and some chewy, dehydrated kale that made the dish.
I was on the Shiraz and with this in mind the waiter recommended the poached pear with warm layer cake and caramel parfait to finish. Like the other dishes it was small and well formed, the little square of layer cake dense and gingery and not too sweet; the parfait finished with a caramel sauce and little coriander shoots that gave a warm spiciness on the tip of your tongue. It's classic cooking with an assured twist at the Macdonald, and dainty though the dishes may be, they tend make up for it in sheer indulgence. It wasn't until I was half-way through desert that I began to feel like I might just need to lie down somewhere and let my stomach concentrate on digestion; luckily my lovely room was just an elevator ride away.