No longer the preserve of tipsy Aunties, sherry has new swagger in these Christmas-sy cocktail ideas from Harveys.
Harveys mulled apple and winter spice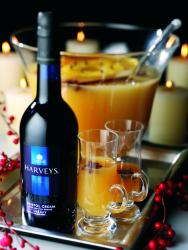 Makes 1 litre
Ingredients:
200ml Harveys Bristol Cream
500ml pressed apple juice
6 cloves
50g vanilla sugar
Method:
Slowly warm the sherry with the pressed apple juice, cloves and vanilla sugar in a pan for 10-15 minutes to release the incredible flavours.
Strain the liquid into a warmed 2 pint/ 1 litre punch bowl.
Garnish with apple slices and serve in glass mugs decorated with star anise.
Harveys Frosted Apple & Ginger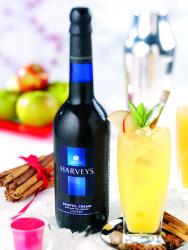 Serves 1
Ingredients:
50ml Harveys Bristol Cream
50ml pressed apple juice
Ginger ale
Cinnamon stick
Mint sprigs and apple slices, to garnish
Method:
Fill a highball glass with crushed ice. 
Pour over the sherry and apple juice.
Top up with a dash of ginger ale.
Stirl with a cinnamon stick and leave in the glass.
Garnish with a sprig of mint and apple slices.
Harveys Bristol Cream is widely available across the UK,  RRP £9.22 for 75cl