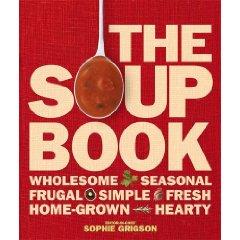 What is it about soup that makes it so, well, so super actually? I don't think there's anyone who doesn't like a nice bowl of soup, be it a gin-clear consommé or a potage you could stand your spoon up in. Soup makes us feel comfortable, cosy and warm. It's like a big cuddle from a favourite aunt. It's made for winter, because you can stick it in a mug and warm your hands around it while stamping your feet, and it's ideal for invalids too. Many a bowl of Chicken soup has brought me back to life; they should run it intravenously in hospital A&E wards I reckon.
And it's not hard to make; if you can boil water you can make a basic soup from almost any vegetable. It will taste much better than one of those instant soups and not take much longer either. Even so, a good soup needs love, top notch stock and ingredients and here in The Soup Book, Sophie Grigson has collated recipes, tips, techniques and ideas from well known chefs prepared to admit their secret passion for soup.
What's more the book has been produced in Association with the Soil Association. It has their approval and a foreword by their Director. They argue, and rightly, that seasonal produce from a supplier as close to the source as possible produces the best taste and creates the least waste. Soups, as Sophie shows, are perfect for using up leftovers that would otherwise go to landfill. The peelings and shavings of vegetables once boiled and strained give great stock, as does the roast chicken carcase that would have gone to the bin. Stale bread makes great croutons and left over unsauced pasta goes straight into the pot.
The basics of making good stock, a soup's foundation, is how the book kicks off, followed by pages on dealing with dried pulses (the basic material of many countries winter larder), how to thicken a soup, enrich, garnish and even more helpfully, rescue when things go wrong. A chart helps you identify what veg are in season when, another useful addition.
A Recipe Chooser at the front categorises soup recipes by Vegetarian, Chilled, Hearty, Healthy, Spicy, Main Meals and Quick and in total there are over 200 recipes with contributions from Monty Don, Raymond Blanc, Shaun Hill, Allegra McEvedy, Skye Gyngell, Sally Clarke and Alice Waters to name but a few.
The pictures are enough to make you want to take a spoon to the page all on their own and there's nothing in the book that you wouldn't want to eat (or do you drink a soup?). Even the chilled soups sound good, although I still believe a cold soup is as wrong as a cold cup of tea.
A great book to remind us that simple is satisfying and that waste not want not. These soups can feed one or a family with ease and taste even better the next day. Right, where's my blender? It's time to make some soup.
{ISBN:1405347856}