One of the most noxious symptoms of the recent boom in street food-vending and supperclubbing is the highly infectious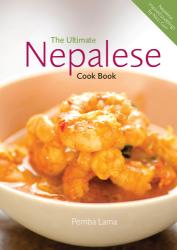 propensity for mercenary trustafarians to coin it in by pedalling the sort of ill-executed, sub-standard generic fodder that would lack heart and soul even if it was offal-based. But, aside from these unsightly, bandwagon-hopping carbuncles, there are a couple of super side-effects stemming from the pop-up epidemic.
Such as our collective increased recognition and awareness of the diverse, esoteric culinary specialities of the myriad cultural populations that make Britain so glorious and great. With lower risk involved than opening a permanent eaterie, you'll find foods at markets and served forth in homes that simply wouldn't make the menu in most restaurants. Forget attributing dishes to a country or even a county – we now want the full postal address.
Which hopefully bodes well for niche cookbook sales. My own interest in'The Ultimate Nepalese Cookbook' sprung from a series of exchanges with Asma Khan, whose Darjeeling Express supperclubs often feature dishes with a Himalayan pedigree. Packed with Oriental nuance and suited to the cold-weather climate, authentic Nepali food is far removed from the blanket'Indian' scran served in restaurants from the high-end to the high street.
'The Ultimate Nepalese Cookbook' is a collaboration between legendary chef Pemba Lama and editor and enthusiast Annie Watsham –  a canny partnership that combines inherent expertise with the learned insights of an outsider. Although the balance is in favour of the recipes, it's peppered throughout with nuggets of background information. I'd prefer a slightly heavier hand with this seasoning, but for the less ridiculously voracious of appetite for the factoid, it's pitch-perfect.
Nepal boasts a surprisingly diverse cuisine, which is as informed by the dietary constraints of the Buddhist minority in the Hindu state as by the Gurkha fondness for the seafood encountered on coastal expeditions. In this book, Lama shares his proud and unique Gurkha heritage, brought bang up-to date with British chef Nicci Gurr's recipes for Nepali-inspired desserts. These'fusion' puddings are both eye-opening and, when considered, eminently sensible.
Adding salt and tea flavours to the milky sauce on a rasmalai-like pud nods to the trend for salting chocolate and caramel, whilst adding a brand-new dimension to a rather one-note sweet. The haunting tang of black salt in a treacle tart serves perfectly to cut the cloy of the nursery favourite, whilst a cocoa-enriched shell for sweet momos – steamed dumplings – houses creamy rice pudding, combining two favourite Nepalese dishes to render something entirely new.
To underpin that'something new', there must also be'something old'; found in traditional recipes for Sherpa curry,'Ahmila Peero' chicken and Gurkha cod. You'll find'something borrowed' in satay, chow mein and stir-fries – only the'something blue' required to complete the proverb remains elusive. Chinese-style recipes display why Indo-Chinese restaurants are so popular with Indians in the UK, the two cuisines harmonising and paying each other the ultimate compliment.
My own ultimate compliments must be extended to Lama, Watsham and Gurr, who've done a stellar job in filling a very vacant niche in a market over-saturated with generic, banal cookbooks with this enlightening, accessible little Nepalese number. It's not aiming to set the world alight – rather, it ignites a slow-burning fondness for this esoteric, undercelebrated cuisine, sharing a collection of dishes whose recipes will really put fire in your belly.
ISBN 0957154100