The Royal Exchange, EC3V 3LR, www.royalexchange-grandcafe.co.uk
If you've ever been to the Royal Exchange but skipped Sauterelle, you've missed a trick, because there's some top food to be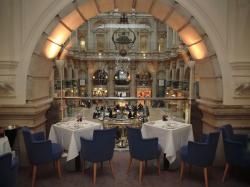 found inside. You can sample a little bit from the classy French menu in the Grand Café on the ground floor, but the best experience comes when you dine in the official restaurant upstairs.
At lunchtime the place is crammed with Cityfolk because, quite frankly, it's arguably the finest of the nearby venues and has a lot more sophistication, which delightfully deters the suits from shouting into their latest'smart' device. At night it's a lot more solemn and peaceful, with cosy tables for more intimate dinners.
Our own begins with pasta. My lobster raviolo boasts a decent bite and houses a generous portion of succulent and chewy meat. Its lobster dressing isn't overly fishy, and the accomanying chervil doesn't spoil the mouthfuls. Definitely pleased. Velvety soft Orkney Isle scallop, is served with sauce vierge and micro basil, and is complemented by a curried cauliflower puree which isn't overpowering and doesn't set up camp in your mouth. 
Sauterelle's trio of beetroot definitely deserves a mention. Some things I've had to gradually accept: Coca-Cola, mints, peas and Gary Barlow to name a few, but nothing has accelerated up my 'favourites' list quite like beetroot. This dish exposes me to a new variety, the white beetroot, which I haven't previously encountered. It's sweeter than its traditional tangy, purple, al dente cousin. A cracking little course displaying good gastronomic knowledge and skill.
I'm a true carnivore when it comes to mains, but I'm always happy to sample a fish dish- tonight 'hake, pomme mousseline, curly kale and brown shrimp butter'. Not as firm as monkfish but not as delicate as haddock, you can sink your teeth into the hake without it disintegrating immediately. The brown shrimp butter is rich and salty and the creamy pomme mousseline glides round the mouth.
It serves as a nice warm-up act to my red partridge leg with char-grilled butternut squash, Jerusalem artichoke, shaved black truffle and red wine jus. I'm a big squash fan and its sweet taste is tempered by the rich salty jus, with a final knockout blow of umami from the truffle. The partridge is less gamey than I was expecting and incredibly tender. It's a terrific dish and had it been a buffet, I'd have brought my ten-inch plate. Aha!
My wine knowledge improves with age but I'm a long way off mastering the art of matching. I also forget everything that a sommelier tells me, but if he's passionate about his work and creates atmosphere with his stories, then it can really lift a dinner. As is the case at Sauterelle. It's a shame that the barrage of knowledge is lost on a numpty like me who can't tell supermarket plonk from a hoighty-toighty tipple. But the evening is pleasantly wet and there isn't a glass that spoils it.
A light dessert is all I can really manage at this point, especially as I'm going to order cheese and biscuits to go with it. Therefore it's a no-brainer to crack open the crunchy caramel top of a wonderfully creamy crème brûlée and plough into some fantastic French cheeses. I'm a very happy diner. The tagline on the Sauterelle website declares it 'the City's best-kept secret' – a pretty good description well worth putting to the test.