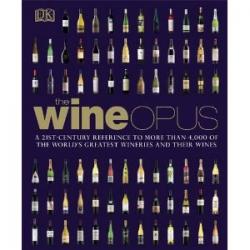 Dorling Kindersley make big books. In the age of smaller and smaller and more and more digital DK believe bigger is better and on that basis alone The Wine Opus must be the best of all.
Needing two hands to lift, and shelf made of reinforced kryptonite to stand it on, The Wine Opus is the big daddy of wine guides at over 800 large and well-illustrated pages.
What it isn't though is a dad's guide to wine. Far from being a stuffy old tome packed with dull opinions from crusty critics with wine stains down their shirts, The Wine Opus has gathered together the best of the young generation of wine writers, the ones who understand the way we drink now.
It's dauntingly ambitious in its scope, covering emerging wine regions, as well as the well-established, and all with insightful overviews. There are over 4,000 wineries between the pages and each gets a 100 word profile of their wine styles. Just enough if not to make you an expert, then at least more than enough to hold your own in wine buff company.
The authors understand the modern liking for wine holidays and so there are 45 maps of wine regions to tour and great photographs of the wine landscapes.
All the writers have recently tasted the wines they write about so their opinions are trustworthy. They list rising stars and top wineries by stringent criteria, they have to be interesting or outstanding and often manage to be both.
While you can't exactly take this book with you to the wine shop, unless you have a small trolley handy, its perfect for reading at home with a glass of something special at your side. It would make an especially good Xmas present, although it might give Santa a hernia.
The more you read, the more The Wine Opus fires you with desire to get out and explore new wine and new civilisations, to boldly go where no wine drinker has gone before. Or at least to tipsily follow in the footsteps of the first explorers.
{ISBN:1405352671}