Celebrating its 100th birthday in style, 2011, marks the centenary of Long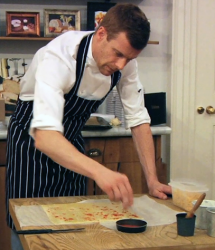 Clawson Dairy, a Leicestershire based co-operative started by 12 farmers to produce Stilton Cheese. And to mark the occasion the dairy has teamed up with Michelin starred chef Tom Aikens to produce a cheese-orientated cookbook. Taking you though each of the decades since the 1910's, there is a chapter dedicated to each ten-year period with an interesting mix of history and some recipes inspired by the times and also the various cheeses that they produce.
The book includes 45 different cheese-based recipes and Tom Aikens has personally created ten. Aikens told us about his love of cheese and in particular British produced cheese and said 'it's no surprise that cheese is a regular feature in my menus!"
Launching the book at his restaurant, Tom's Kitchen at Somerset House, Aikens demonstrated the Cotsworld double Gloucester cheese straws samples floating around the room, such as red Leicester macaroni cheese, as well as broccoli and blue Stilton soup which was a bigger hit with the attendees.
On leaving the book launch everyone was given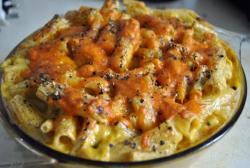 a DIY red Leicester macaroni cheese kit and I thought it was only fair to have a go. One of the few recipes contributed by Tom Aikens himself, easily one of the best renditions of the dish I have ever tried, the red Leicester was the star of the show and little extras such as infusing the milk with nutmeg and bay leaves and adding Dijon mustard to the sauce were all inspired. If the rest of the recipes are all this good, and a lot of them look like they could be, then this is definitely a book worth having if you like your cheese and lets be honest who doesn't?
Full of an eclectic mix of recipes and some interesting cheese-related reading too, Cooking Creatively with Cheese is certainly original, buyers might be a bit disappointed by Mr Aikens' iimited recipe contribution though, but in his defence the ones he has created are all suitably cheesy. At just over 100 pages in length it is not the largest book on cooking ever written, and not particularly kitchen friendly either, almost impossible to keep the page you need open without superhuman force.
On sale now, Cooking Creatively with Cheese costs £7.95 and is available to buy on Amazon.
For more information on Long Clawson Dairy visit www.clawson.co.uk