If you're a fan of Busana Eathai or want to learn more about Thai food, Alan Yau's chain of casual, canteen-style Thai restaurants, has recently introduced low-cost cookery lessons, which are perfect for anyone interested in improving their green curry technique.
An excellent opportunity to discover some of the secrets behind different styles of cuisine from established chefs, cookery courses and classes are an extremely informative and enjoyable way to learn more about food, but unfortunately they are often quite pricey; this is certainly not the case here. CookThai is extremely reasonable, and for £35 you get a whole mornings instruction from one of the most accomplished Thai chefs in London.
Classes are run under the expert guidance of executive chef Krit Sangsida along with one of his assistants. Together, their aim is to teach you the basics of Thai cooking and go over some of the necessary skills that you will need to help you recreate some of the most common and popular Thai dishes.
The morning starts at 10am with a cup of lemongrass tea and some coconut biscuits, after a relaxed introduction to Thai food and a brief history of the restaurant, we are given an overview of some of the most common ingredients found in a Thai kitchen, followed by an outline of the recipes that we would be cooking.
Lessons take place in the actual restaurant kitchen, and as a result numbers have to be kept to a minimum (generally around 6), this is to ensure that there are enough cooking stations and that everyone can actually participate.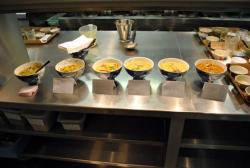 Three different dishes from the Busaba menu are taught over the course of the morning, and this week it was the classic Thai green curry, the firey but hugely popular green papaya salad and chicken wrapped in pandan leaves. The typical format for the course is usually one curry, one side dish and one salad, with the intention of exposing you to the main Thai flavours.
Each new dish is preceded by a short demonstration from chef Sangsida, before it is your turn to try and recreate it. Personally responsible for training each new chef that works at any of the Busaba's, chef Sangside is an extremely experienced teacher and makes sure that by the end of the course everyone's food is of a standard good enough to serve in the restaurant.
The teaching part of course lasts for about two hours and following this everyone retreats to restaurant to enjoy the lavish feast that has been created before the course finally ends at 1pm.
Currently, only running at the Panton Street branch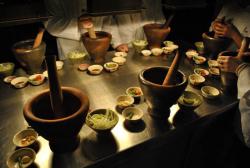 near Leicester Square, the course takes place once a month and usually on a Sunday. Very fairly priced, the £35 fee barely covers the cost of the food you eat and when you add in the private teaching, the experience of working in an actual restaurant kitchen and the vast knowledge chef Sangsida shares with everyone it really is a no-brainer, especially if you're interested in Thai food.
Perfect for parties, special occasions, as a gift or for anyone interested in learning more about Thai cooking, I can't recommend CookThai at Busaba Eathai highly enough, just make sure you book soon before the word gets out.
A complete Thai meal including a drink of choice costs £35.00 per person.
The class runs from 10am-1pm on Sundays and takes place once a month.
For further information or to make a booking contact Leila Botham on + 44 (0) 20 7291 1111 or email cookthai@busaba.com