Tapas Revolution, The Balcony, Westfield Shopping Centre, Shepherd's Bush www.tapasrevolution.com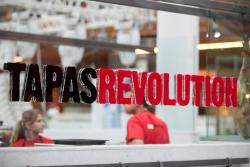 So where shall we eat tonight, dear? Covent Garden, perhaps? Knightsbridge, maybe? No? How about Westfield, then? Okay, Westfield is not the first choice for most people to go for a meal, but here we are for a meal at Tapas Revolution, which might have an unlikely setting, but has an impeccable pedigree. The brainchild of chef Omar Allibhoy, it's the first in a planned series of Madrid-style all day tapas bars. Allibhoy, head chef of El Pirata Detapas, was recently described by Gordon Ramsay as the Antonio Banderas of cooking and was trained by Ferran Adrià of the über-fêted El Bulli, so our expectations were high.
Having had a bit of a mooch around the sparkly shops, we made our way to Tapas Revolution. On the mezzanine level, it's close to the usual food court suspects, but stands alone, the rustic lighting and garlands of chilli peppers and onions drawing us in. We took the weight off our feet with the menu, drinks and a dish of fabulously moreish kikos (spiced deep fried corn). I had a glass of the Cala Sauvignon Blanc, which was crisp, dry and fruity, but A was feeling beery, and set about his bottle of Estrella with serious intent. The menu had a good selection of Spanish dishes; all the usual dishes are there, together with a few unusual ones. And while we're usually decisive (well, sometimes), every now and then it's nice to put yourself in the hands of an expert, and that's just what we did, leaving the choosing to Manuel, the charming manager.
First up, pan tomaquet (toasted bread, garlic, tomato and olive oil) was a nice way to start, with fresh flavours and good quality bread. Taste buds stimulated, we tried two of the many jamons on offer at Tapas revolution; jamon Serrano de Tereul was very good, tender ribbons full of flavour, we enjoyed it very much – but the jamon Ibérico de bellota Gran Reserva (acorn fed Iberian ham, freshly hand carved from the poor beast's leg) was a complete step up in terms of quality and taste. It was spectacularly good; quite fatty, but with a terrific texture and taste, and we scarfed the lot happily.
The menu at Tapas Revolution is separated into hot and cold, and perhaps perversely, we started with two hot dishes. Pinchos morunos (marinated rib-eye skewers) was my favourite dish of the meal; three skewers of excellent meat, cooked to perfection, and accompanied by a terrific mojo picón (a spicy sauce from the Canary Islands); it was glorious. The patatas bravas (potatoes in spicy tomato sauce – but you knew that already) was bound to suffer by comparison, but was still a good dish, the potatoes nicely cooked, and lifted by the piquancy of the sauce and a dab of cream.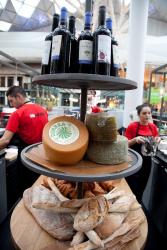 Onto the cold dishes, and again we possibly did things back to front by having the boquerones (anchovies marinated in olive oil, garlic and parsley) first. I'm always slightly wary of anchovies, having had one too many hairy salt bombs go off in my mouth, but these were terrific. Pieces of anchovy fillet, the flesh was pearly white and meaty, and the marinade giving a real kick of garlic and acidity to pair up with the saltiness of the fish. The Salpicón de Marisco (a salad of prawns, octopus, peppers, red onion and olive oil) looked lovely, very fresh and summery, but lacked the robust flavour of the boquerones, so felt a little dull by comparison, which is perhaps unfair. I would have it again, but definitely before eating anything with gutsier flavours going on.
By this time, A was getting well acquainted with Estrella, while I had moved onto red. Tapas Revolution has a small but perfectly adequate choice of sherries and wines, all Spanish; I tried the house red, El Muro Tempranillo, which was nicely smooth and went well with the food. Wines are available by the glass, but also in rather nifty carafes, which seemed to be popular among the other customers.
Tapas Revolution doesn't have a dessert menu, but has a couple of dishes good for the end of a meal. We had the selection of four cheeses , including manchego and leon, served with quince jelly – all were very good. And finally, with just a little persuasion from Manuel, from the desayunos (all day breakfast), we had the chocolate con churros (Spanish doughnuts with chocolate. The snake-like dough was nicely cooked, piping hot and dusted with a little cinnamon and sugar; served with a rich chocolate sauce, they made a fitting end to the meal.
Service was very good; being a casual space, the service is informal and friendly, but everything was spot on, and we were very well looked after. Being slap-bang in the middle of a shopping centre has an impact on the atmosphere, but doesn't overwhelm the ambience that Tapas Revolution creates. And we were struck by the thought that for the cost of a stupidly-named coffee and mass-produced pastry at one of the many enormo-coffee chains around, you could easily share a carafe of wine and a plate of stunning jamon at Tapas Revolution… and really, there is no comparison. While Westfield will never be my first choice for retail therapy, if you're there or thereabouts, give Tapas Revolution a whirl… see what I did there? But in all seriousness, it's a cut above the other offerings there, and is absolutely one to try.