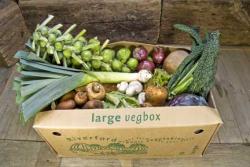 Riverford Organics deliver organic fruit, veg and meat boxes and other organic food from a network of five farms straight to your door. They sent us one to create the pancakes below and it from butter to milk, from cheddar to eggs, the quality and taste was outstanding. The range of foodstuffs available is impressive and the cost comparable with ordering from a quality supermarket online.
Go to www.riverford.co.uk to see more .
Soufflé vegetable pancakes
4 pancakes
approx 100g leftover cooked veg eg leeks, roots or broccoli, finely chopped




knob of butter (about 25g)




25g plain flour




150ml milk




¼ tsp Dijon or coarse grain mustard




handful grated cheddar (or use whatever cheese you have left in the fridge) + a little extra for sprinkling




salt + pepper to season




2 eggs, yolks + whites separated
Melt the butter in a pan, add the flour and cook gently, stirring constantly, for 1-2 minutes. Lower the heat right down and gradually add the milk, stirring. Increase the heat and stir until the sauce has thickened. Add the mustard and cheese and season with salt and pepper. Leave to cool for a few minutes, then stir in the egg yolks, then the leftover veg. In a separate bowl, whisk the egg whites until they form a soft peak. Carefully fold into the veg mixture. Put the pancakes in a baking dish and spoon some of the veg mixture down the middle of each pancake. Fold the over on both sides to make an open ended parcel. Sprinkle with a little extra cheese and bake at 200C for 20 minutes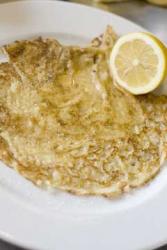 Sticky apple compote
4 pancakes
2 apples, cored + sliced or cubed
¼ tsp cloves, allspice or cinnamon
juice 1 lemon, depending on size
1 ½ tbsp caster sugar
2 tbsp clear honey
double cream to serve
Put all the ingredients in a saucepan and cook for 5-6 minutes until the apples are just tender. Serve with warm pancakes and double cream.