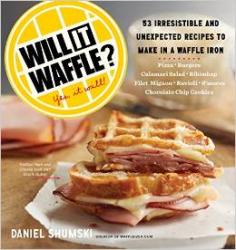 Never thought of using your waffle iron for anything else but traditional waffles? Neither did I, until I have opened this book. Written by Daniel Shumski, an author and editor currently residing in Montreal, the book covers everything and anything there is to know about waffles and waffling all kinds of food.
The book's written with a good sense of humour; let's be honest – it's hard to take cooking in a waffle iron completely seriously. The majority of the recipes are easy to make, practical and don't require any fancy cooking tools, as long as you have a waffle iron you're all set.
Will It Waffle offers recipes for breakfast, brunch, main courses, snacks and deserts. While some of the recipes are rather traditional, most of it will leave you intrigued.
Ever heard of Waffled Fillet Mignon, Waffled Macaroni and Cheese, Waffled Soft-Shell Crab? Turns out you can waffle just about anything, except for a few things that are listed in section 'What Won't Waffle'.
Next to every recipe there is author's note on how the recipe has been created, what mistakes have been made at first and advice on how to avoid them. The book also covers tips and tricks of cooking in a waffle iron as well things you should and shouldn't do.
Will It Waffle is great for those who are obsessed with waffles, or those who like me, know very little about it – if anything, the book gives you a lot of ideas of what you can use your dusty waffle iron for.
Is this book quirky? Most definitely yes, as well as definitely a cook book you must have, because what can be better than Waffled Chocolate Chip Cookies on a rainy afternoon.
{ISBN:0761176462}