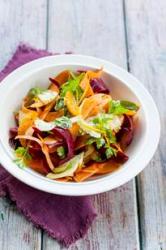 Beetroot and sweet potato make the perfect partnership in this recipe for a late summer salad. With beetroot in season until October and sweet potatoes available all year round, now is the time to make the most of these brightly coloured veggies.
This salad makes a deliciously light and fragrant lunch or side dish, and is low in calories and fat. What's more, beetroot is a fantastic source of folic acid and iron, and sweet potatoes are high in fibre, and full of vitamin A, C, manganese and potassium, ensuring this meal is packed full of nutritious goodies.
The Love Sweet Potatoes campaign is designed to tell everyone about the benefits of sweet potatoes and the different ways they can be used in everyday meals. The North Carolina farming family at Scott Farms is behind the campaign and has been growing sweet potatoes for over four generations. They are now the largest importer of sweet potatoes into the UK.
Ingredients
1 large sweet potato, peeled
1 raw beetroot, peeled
1 fennel bulb, thinly sliced
1 orange
Small bunch mint
Small bunch flat parsley
2 garlic cloves, chopped
Salt (optional) and cracked black pepper
5-8tbsp extra virgin olive oil
Method
Using a potato peeler, slice the flesh of the beetroot into thin strips, place in a large bowl of cold water and leave to soak. (You will need to change the water a few times to make sure the beetroot doesn't stain the rest of the ingredients).
Cut the flesh of the sweet potato into strips and place in a large bowl. Add the fennel.
With a potato peeler, remove the zest from the orange, cut into thin strips, and add to the sweet potato. Then remove the peel from the orange with a knife, and cut the flesh into segments. Add to the sweet potato.
When the beetroot has stopped losing colour, drain and spin in a salad spinner to remove any excess fluid, then add to the bowl with the sweet potato.
Pick the leaves from the mint and parsley, and add to the salad together with the garlic, salt if used, cracked black pepper and some oil. Toss and serve.
 For more information please visit www.lovesweetpotatoes.com.
Tips
• This salad can be prepared well in advance as it won't become soggy.
© Felice Tocchini 2014