The Waldorf Hilton London, Aldwych, London WC2B 4DD /  www.homageatthewaldorf.com
I don't make it into the West End of London much these days, that is, unless someone lovely has splashed out on a couple of cut-price theatre tickets and wants to share the frustration of taking turns to peer around an inconveniently placed pillar with me; or an out-of-towner who doesn't know London decides that meeting'somewhere on The Strand' would be a good idea.
But everytime I do venture out West, I'm always struck – and not just by the surging crowds of tourists armed with telescopic camera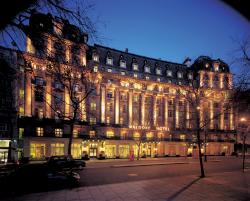 lenses, golf umbrellas and fun-size Primark bags – but by just how bloody beautiful this corner of grand old London really is. So I was delighted to hear that one of the grandest old dames off The Strand in Aldwych had a new chef and wanted someone to eat their way through its new menu.
The Waldorf Hilton has been welcoming glitterati like Dame Judi Dench and Elizabeth Taylor through its doors since 1908, but their new chef in the hotel's Homage Restaurant, Richard Prendergast has only been around since May of this year and he comes with an impressive CV, with stints at hotels like The InterContinental Park Lane and The Grosvenor under his culinary belt.
The setting is as you'd expect: a smiling doorman, a dimly-lit, plush interior that's more Mad Men than Middle Eastern opulence and a relaxed atmosphere that practically propels you into the nearest sofa and puts a glass of wine in your hand.  Homage itself is a homage to the roaring 20s, all cream pillars, nut-brown parquet floors and chandeliers that dripped crystal from the double-height ceilings.
My dining partner S and I were barely seated before the meal had begun, with waiters as silent and discreet as well-oiled ninjas appeared with freshly-baked bread and chunks of chilled butter, water and wine and barely missing a beat before arriving with our starters. S opted for a perfectly pleasing but unremarkable goats cheese and fig salad while I had the Carpaccio made from 30 day hung Scottish beef and served with a wild rocket salad and aged Parmesan, which appeared on the plate like two ruby-centred meat doilies with seared, feathery edges and were delicious, if a little thicker and tougher towards their chubby centres.
S and I hadn't seen each other for a while, so the very fact that the arrival of the main courses actually caused a prolonged concentrated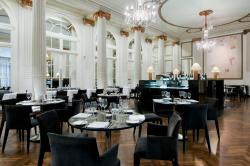 conversation break as we dissected our food, polished silverware flashing, must surely be a testament to the quality of the food, well that and we were hungry – expect to find refined potions here, not plates that are full to bursting. S's pork came soft and unctuous, glistening with a sort of prune jam that proved, in the end to be that touch too sweet while my little fillet of butter-soft trout came with a tasty if sparse buttery, creamy sauce and some delicious little shrimp and was strewn with summer veg and pillowy blobs of herb gnocchi.
This was swiftly rounded off by Homage's famous Amalfi lemon tart. Lipsmackingly zesty it was, but exceptional? I think I need to go back and have another slice to be utterly sure as I'm not sure the flavour lingered long enough to warrant the'acclaimed' accolade it has garnered.
It's hard to innovate a typically classic hotel menu, especially when your clientele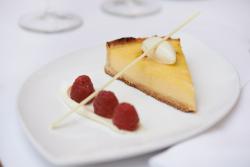 generally come with inherently classical tastes. The menu is about presenting fresh, delicate food with clever seasonal inflections and the occasional foray into modernism. S's desert, for example, was a curious cubist confection of pressed layers of celeriac and berry mousse enrobed in white chocolate that was about as daring as I would expect this perfectly-executed array of British and Euro favourites to get, which is impressive…even if it did still taste a little bit like a chocolate-covered vegetable.
For more information, booking and to see what's currently on the menu at Homage at the Waldorf Hilton, check out their website.