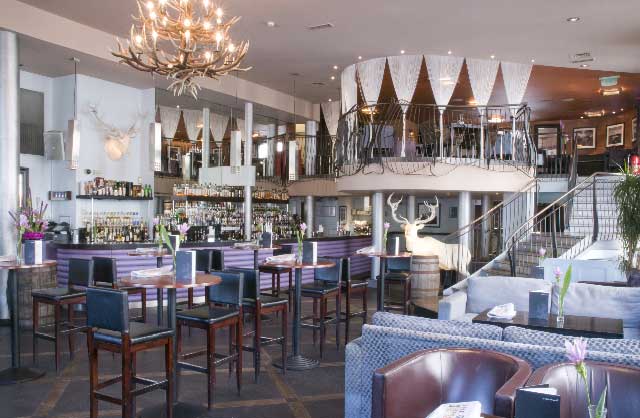 Make the most out of Whisky Month this May at Albannach, London's Scottish bar and restaurant, situated in the heart of London's Trafalgar Square. Offering one of the most extensive whisky menus in the capital, expert masterclasses, brand new cocktails, a creative dining menu and a bottle of Laphroaig 27-year-old, unavailable at any other bar in the UK, Albannach is the only place to be for this inaugural event.
Expert Whisky Master classes
Every Tuesday throughout May dedicated whisky virgins or connoisseurs can enjoy expert masterclasses downstairs in Doon at Albannach. With each session catering for a different level of experience, and featuring a variety of regionsfrom the Highlands to the Lowlands and Islay to Speyside, each class will be lead byrevered experts including therenowned Ian Wisniewski. Each ticketed event includes a whisky cocktail reception with canapés, an introduction to the evening by a guest ambassador and is followed by a full whisky masterclass complete with whisky tastings, tutorial and the chance to make your own cocktails followed by a gift to take home.
Places are limited. Advance booking highly recommended. Please contact Albannach's bar manager, whisky expert andpassionate Scot, Stuart Bale on stuart@albannach.co.uk or call 020 7930 0066.
Dates: 5th, 12th, 19th, 26th May
Time: 7pm – 9pm
Cost: £30 per person per class.
Group offer: Book for four people and the fifth person is free. Save £ 2 0: Book all four classes for just £100.
Exclusive Whisky – Laphroaig 2 7 year old
Post-masterclass you'll be raring to try the best, so throughout Whisky Month Albannach will be the only bar in the
UK offering Laphroaig 27 year old. Albannach has the last bottle available from the secure vaults of Laphroaig. Only
five casks were ever produced, aged exclusively in sherry casks (rather than the bourbon casks of other Laphroaig) this
is a must-try whisky. £70 per 50ml
Additional new whiskies exclusive to Whisky Month at Albannach include Balvenie 19 6 6, a rare and renowned
whisky with cinnamon, baked banana and marzipan aromas as well as Adelphi, The Whisky Cannot Be Named, a
lively spirit with orange marmalade, jasmine tea and citrus notes.
New Cocktail
Bar Manager Stuart Bale, showcases his passion for the Scottish spirit, by creating a selection of new cocktails for
Whisky Month. These include:
The Sc o t ch Roy – Caol Ila Moscatel whisky with Drambuie, lemon zest and bitters. Shaken then stirred. £9.00
The Three Wood – Auchentoshan 3 Wood Lowland malt with sweet fresh muddled plum blended with cherry
herring, crème de fig and lime juice. £6.50
Whisky Month Dining
To celebrate Whisky Month Albannach has introduced a brand new menu brimming with Scottish ingredients,
complete with spot-on whisky-matching tips. It will be available at lunch and dinner throughout May.
STARTER
Single malt whisky cured Scottish Salmon served with pickled cucumber £7.00
Matched with Glenlivet 12 year old £7.50
A light whisky with a hint of vanilla, its short-lasting finish makes for a perfect appetiser
MAIN
Buccleuch Ribeye of Beef with an Albannach whisky glaze sauce, served with wilted spinach,
fondant potatoes and courgette purée £21.00
Matched with Glenlivet 15 year old French cask £12.50
A good balance between the taste of a heavy oak cask smoked finish and with an enriched sweetness taste,
recognised for its lasting finish
DESSERT
Strawberries macerated in Chivas Regal 12 year old whisky served semifreddo and infused with
Highland forest berry jelly £6.50
Matched with Chivas Regal 25 year old £35.00
Distinct notes of apricot and peach, silky smooth with a warm fruity aroma with hints of orange,
chocolate and hazelnut on the palate
Albannach and Doon, 66 Trafalgar Square, London WC2N 5DS.