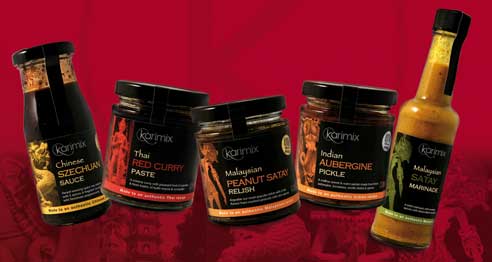 Having been asked,by the proprietor of the company Monica Chia, to sample and comment on some of the range of products that are available in the Karimix range packages containing more than a dozen products soon turned up at Foodepedia
Eager to sample these , we first tried the Malaysian Laksa curry paste, which can be used in a variety of ways like most of these products, including on its own as a marinade before cooking. We used the paste to marinate strips of chicken breast, cut about 1" thick, for about 90 minutes before cooking at the top of the oven, at its highest setting, for 10 minutes. The result was beautifully tender pieces of meat that had a piquant coating, that was peppery with ginger and coriander flavours coming through and an almost fruity aftertaste. Inspired by the success of this, some days later I tried the same paste to marinate pork tenderloin, cooking it in a similar way, but for a little longer this time and again the paste complemented the meat extremely well.
We used the Chinese Szechuan sauce on noodles, following the recipe on the Karimix site, tossing the noodles in the sauce with chopped spring onions and fresh coriander leaf. The result was a zingy dish with a tangy sweetness, delivering some heat but with no lingering afterburn. This made a good starter for a meal with friends. We followed this, again drawing on recipes from the site, using the Vietnamese chilli and fennel sauce first by mixing it with some oil and coating peeled butternut squash that had been cut into wedges before roasting, this gave the squash a sweet tang and some heat that complemented its own natural sweetness incredibly well. We also mixed this sauce with cream cheese, chopped onion and pepper to form a base for a goats' cheese and avocado pear pizza, another site recipe, the heat of the sauce seemed to be accentuated by the cream cheese and some of the flavourings in the sauce, like the fish sauce that is part of its make up, were more noticeable.
The Indonesian satay sauce, used to coat blanched mixed vegetables before roasting, another Karimix recommendation, as you might imagine, gave the vegetables a lovely peanut coating, that had a little spicy heat and some tanginess that worked well. The Indonesian chilli pepper relish and the Sri Lankan chutney used in equal measure, as recommended, to make spicy tamarind pork. Diverting from the site recipe I used individual fillets rather than one joint, cooking it at full heat at the top of the oven again for ten minutes, this gave the meat a good citrussy hit, some sweetness and after heat that was lovely.
We have been impressed by the freshness of flavour that these pastes, chutneys and sauces have, they are mouth tingly good and give your taste buds a welcome work out and at just under £3 per jar are excellent value. So, if you are a fan of Indian and other far eastern dishes and have regular deliveries from your local takeaway (which I often end up skimming oil and fat from before serving) it is worth trying this range of products, they are easy to use, you can control the amount of fats and oils that your dishes contain and have the satisfaction of saying 'I made that'. If this inspires you to try them you can access the Karimix site at www.karimix.com and through there can order products from distributors or contact the site direct. I wholeheartedly recommend them.
akandpa