F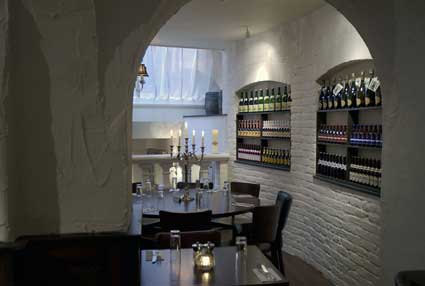 ollowing the success of its first venue in Twickenham, Brouge comes to Richmond to excite diners with its modern Belgian bistro. Brouge offers guests the opportunity to sample a wealth of tasty Belgian inspired cuisine with a hint of Modern British influence – using fresh local produce delivered to the door daily.
This is all offered with value for money in mind with most main dishes under £10. At Brouge there is a daily changing specials menu and a seasonal A la carte menu. The theme of 'cooking with beer' runs throughout the menu from honey spiced Lambiek beer ribs with chilli and spring onion to award winning pork sausages served with an onion and Bruin Beer Gravy. Brouge have also introduced classic summer fishpots from Scottish Salmon to North Atlantic scallops.
Desserts don't disappoint either with three types of traditional Belgian waffles including cinnamon and triple chocolate, strawberry meringue glace with fresh strawberries from Kent and an indulgent chocolate fondue with vanilla biscuit and seasonal fruits.
This is all served up in Brouge's unique dining room, providing the feel of an authentic Belgian cellar house giving a cosy, intimate and informal dining environment.
The focus at Brouge is on carefully sourced produce with suppliers such as Vickers Game in Berkshire supplying the finest quality English meat and game, to local award winning butcher Bruce Ricketts who previously won best pork sausage at the North West London Butcher's Association.
Local Cheeses also figure prominently at Brouge thanks to the Teddington Cheese Company with its selection of 130 different varieties.
Brouge also offers a fantastic selection of over 50 different beers across Belgium from Lambiek, normally brewed for a minimum of 3 years in aged wooden casks to pale ales, fruit beers and traditional Trappist varieties. There are unique beer cocktails and a world beer selection to suit any discerning palate. The drinks menu also educates guests on which dishes compliment particular types of drinks.
Brouge holds regular beer tasting events held courtesy of the Brouge Beer School – expertly tutored by Brouge's very own beer sommeliers. Basic level packages start at £5.95 per person and go up to master's level at £14.95 per person. The New & Old World wines carefully selected at Brouge also provides diners with around 35 quality wines to choose from.
For further information or to make a booking please contact 0208 332 0055 or info@brouge.co.uk