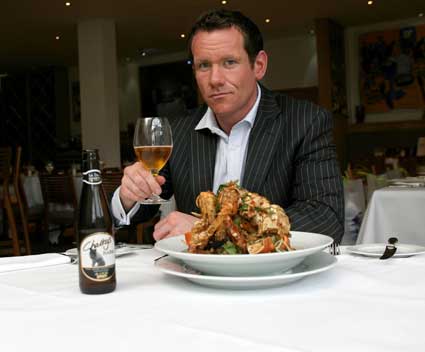 Is head brewer Stuart Howe's bark worse than his bite? And why is he Rick Stein's favourite brewer? Find out the answers to these questions and more when Stuart comes to town with a selection of his favourite beers from the Cornish coast.
lovebeer@borough is playing host to Sharp's head brewer Stuart Howe on May 9, as he talks to Borough Market regulars and beer buffs alike about his very special brews.
On show will be some rarely seen beers and all the Sharp's favourites like Cornish Coaster, Doombar and Special.
The more esoteric offerings will include:
• Chalky's Bark in cask – a newly-launched ginger-flavoured beer & deliciously refreshing at just 4%
• St Enodoc – an 8.5% Belgian-style beer that has been conditioned for 11 months
• The simply named 4 – an 11% barley wine-style beer that's a natural match for blue cheese
Commenting on the event Howe says: 'As a London lad it's nice to bring my beers home, so to speak, and I'm looking forward to sharing them with London-based beer lovers and those from further afield.
'Our range is designed to cover everyone's tastes, from the simple refreshment of Cornish Coaster to the food-matching capabilities of Chalky's Bite through to the sip and savour nature of the St Enodoc – I know everyone will leave having found a new favourite."
Agreeing with Howe, partner in lovebeer@borough and independent beer writer Melissa Cole says: 'You can honestly see why Rick Stein has called Stuart his favourite brewer; I am a big fan of Sharp's beers and I'm really excited to have Stuart in London showcasing them for people to experience."
There are currently two tasting events scheduled, on Saturday May 9, at noon and 3pm, but tickets are already in demand by word of mouth alone, so more announcements may follow.
Tickets to the Sharp's Meet the Brewer sessions are just £15.
Available from Utobeer or the Rake (14 Winchester Walk, Borough Market, London, SE1 9AG) or by emailing melissa@love-beer.co.uk or calling 020 7378 9461.