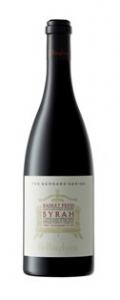 This rather lovely wine which comes from the Bellingham winery, which is more than 350 years old and located in Franschoek, a short distance from Cape Town. Bellingham was founded in 1693 by Gerrit Janz van Vuuren and his French Huguenot wife, when they planted the Vineyard's first 1000 vines. Centuries later in 1943, pioneer and innovator Bernard Podlashuk, acquired the farm and in 1949, produced the first South African Rosé. Bellingham then went on to bottle the first extra dry white wine in the country in 1951 and the first single varietal Shiraz in 1956. The winery have continued to strive to create the finest wines ever since. At Franschoek, Bellingham has some of the premium vineyard sites in the Cape winelands and the wines produced are well respected in the South African winemaking community.
We tried The Bernard Series Basket Press Syrah 2007, and enjoyed it immensely. Its label boasts: 'The grapes for making this wine come from low yielding well drained vineyard sites and begs only for the gentlest of treatment. Therefore our winemaker, following the wisdom of Bernard (Podlashuk), uses a basket press to gently extract the unique Syrah juice that makes this extra ordinary wine. Powerful yet elegant with an intense perfume of spice and violets complemented by rich ripe forest berry flavours and a seamless slightly smoky vanilla oak profile.'
The wine has a good deep dark red colour that is very inviting in the glass. It lives up to its promise of light, but noticeable violet and spice on the nose. On the palate there were good rich berry fruit flavours with a hint of sweetness and acidity. There are good background vanilla flavours and slight pepper and spicy notes which add to the experience. It is a soft smooth medium to full bodied wine that has good length on the palate leaving you with a slight dry edge in its finish.
We had the wine with some grilled pork and a salad and it supported the meal really well: I am sure it would also be a great match for chicken and other white meats, it would also stand up well to tangy sauces and marinades that you get during the barbecue season.
The Bernard Series Basket Press Syrah, 2007 is an excellent wine, a joy to drink and lovely on the palate, it is currently available from Sainsbury's at £9.99 and worth every penny.