The Filling Station – 98/100 Clerkenwell Road, London. EC1R 5BX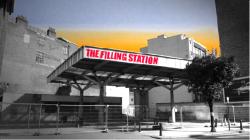 Drinking in an abandoned petrol station… Such is the life of the freelance food hack. However, rather than drown my sorrows in seedy solitude, I had come to a much more artsy event. To mark the final days of London's 16-day long Festival of Architecture, I joined 100 others for a feast in a decommissioned Clerkenwell 'Texaco'.
The curious, but striking setting was liberated, enthusiastically scrubbed then re-imagined as a 'pleasure garden' where usually prohibited activities such as booze guzzling, gassing on a phone and smoking could take place.
With concrete as carpet, it largely drew dressy architecture students who, to the surprise of passers-by, filed through a tall barrier in cocktail dresses or drainpipe trousers. Formally, their quest was to find 'the perfect place to picnic' whilst exploring 'the relationship between food and architecture'. Informally, they (and I) came to lap a lavish buffet for a reasonable price (£10).
Beneath the station's livery free, table like canopy, we started with Kent white and rosé wine from producer, Chapel Down. To remain legal, bottles were sold as instant raffle 'prizes' from a bar incorporated into the abandoned and oddly ghostly Somerfield express store.
Contributed by local restaurants, 'Hix', 'Modern Pantry' and 'St. John', oysters on the half shell were pepped with super strength Tabasco, succulent Scotch salmon was deeply smoked, a huge, pink ham was punctured by cloves, bulging breasts hung from sturdy boned roaster chickens, quiches were zingily dressed on short crusts, pȃtés were fluffy, sourdough was crisp with a chewy crusted, cous-cous was highly herby and broad beans burst on the palate. These generous platters were lit by fibre optic wands and lined up along a long igloo of polystyrene crates.
Courtesy of bow-tied 'Jellymongers', Sam Bompas and Harry Parr (the latter of whom trained as an architect), pudding proved an aesthetically arresting and incredibly potent finale. Served in imposing glassware, their luminous green absinthe trifle was adorned with cigarettes and pineapple leaves.
I eventually left, secure in the knowledge that pulling up at a petrol station would never be this interesting again…