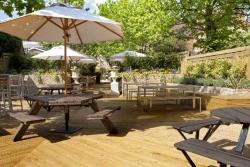 Balmy summer evening. Pub Garden. Friends. Chilled glass of wine or a refreshing pint. Hog roast.
Life's good. Make someone else's life even better by joining The Avalon in Clapham for their first ever al fresco pub quiz in aid of The Kivuli Trust who work to ensure disabled children in East Africa have access to what we take for granted: food and drink in a safe, nurturing environment.
At 7pm on Wednesday 21st July, the stunning garden at The Avalon will be transformed as people enjoy the ultimate trivia test. The aim is that you have a good time by enjoying a delicious mezze, followed by roast suckling pig, from the pub's very own farm, before flexing your intellectual prowess by answering a few, fun general knowledge questions.
The result is that money is raised so that The Kivuli Trust can make a real difference to people's lives. In addition to providing food and drink, they also offer education and homes to disabled children, crucially ensuring they make friends, learn basic skills, feel valued and are accepted in to wider society.
Tickets to the Garden Party Pub Quiz cost just £15 and include entrance, mezze and a hog roast. There are special prizes to be won and proceeds from ticket sales will go direct to the Kivuli Trust. Teams may be made up of two to six people. Limited spaces are available. To submit a team, you must register your interest by 14th July to Georgie Harding-Newman on gscpope@yahoo.co.uk. What are you waiting for? When has going out ever felt this good?
Tweet. Tweet.
If you are unable to attend, don't fear, the digital age has come to your rescue. To launch the Renaissance Pubs twitter feed, the quiz will be hosted live on twitter.com/RenaissancePubs.
Follow them, join in the fun and be in the running to win a meal for two at any of the leading Renaissance Pubs which include The Abbeville and Stonhouse also in Clapham, The Bolingbroke in Battersea and the newly opened Tommyfield in Kennington. Funds can also be raised by for The Kivuli Trust by visiting www.justgiving.com
The Avalon, 16 Balham Hill, SW12 9EB T