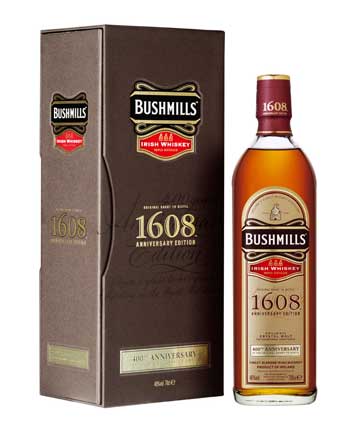 Irish whiskey, my favourite whiskey, and when it comes to a drop of the Irish, Bushmills have been practicing the art at Ireland's oldest working distillery in Co Antrim, Northern Ireland for a very long time, 400 years in fact.
Join Bushmills Irish Whiskey in toasting the 400th anniversary of the royal licence to distil whiskey being granted to the Bushmills area in 1608, with two gifts for the Christmas season.
Bushmills® has released a special limited edition Irish whiskey, Bushmills 1608™, to celebrate the anniversary. Available in Selfridges and selected whiskey specialists, Bushmills 1608 has a suggested retail price of £49.
Winner of Whisky Magazine's Innovator of the Year Award, Bushmills 1608 is a unique blend of tradition and innovation. It combines some classic features of Bushmills whiskeys (such as triple distillation, the use of fully malted barley and maturation in the finest quality Sherry oak casks) with a pioneering process: it was distilled with crystal malt, a special type of malted barley selected to deliver exceptional smoothness.
So-named because of the crystallized appearance which the barleycorns take when gently toasted before the distilling process, crystal malt lends a sweet, toffee-like smoothness to the final spirit. The result is a whiskey with an alluring sweet aroma, mouth-filling creamy notes and a uniquely smooth finish.
Just a taste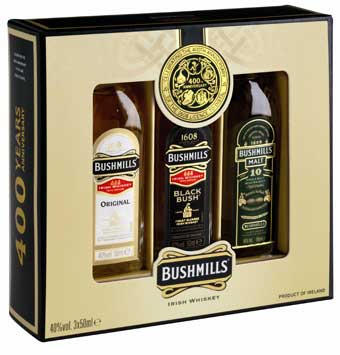 Bushmills have also created a special taster pack perfect for filling the stocking of some lucky Dad this xmas. Hello kids, are you listening? The pack contains three of Bushmills most popular blends, Bushmills Original®, Black Bush® and Bushmills® Single Malt 10 Year Old. Can you imagine what fun there is to be had comparing and contrasting those after Xmas lunch? And can you imagine the hangover if you overdo it?
The taster pack is available at Selfridges nationwide for just £12.99 RRP.
To help you get into the grain, here are the tasting notes for each of the bottles in the pack.
Bushmills Original
Light, fruity and spicy aroma. Vanilla note developing into vanilla ice-cream and crème brulee.
Black Bush
Big and bold with a rich fruitcake aroma. An intense sherry sweetness develops into fruit and raisins.
Bushmills Malt 10 Years Old
Fresh and zesty, with milk chocolate and toasted wood on the palate.
Be original with hot Bushmills

You won't want to use the 1808 for this recipe ,but it's perfect for Original and for warming up a winter's evening.
Ingredients
1 Measure Bushmills Original Irish whiskey
3 Measures of Hot water
Lemon wedge plucked with cloves
Brown Sugar
Directions
Pour the whiskey and brown sugar over lemon wedge in a tall glass. Fill with hot water.