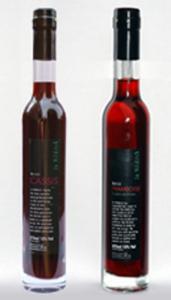 British Food Fortnight takes place between the 18th of September and 3rd of October across Britain to celebrate the best of British produce and showcase the diverse range of food available.
Why not join the fun and enjoy some British blackcurrants at their best?
British Blackcurrant grower, Jo Hilditch, has used her expert knowledge to create a delicious cassis which would be great as part of a summer cocktail. It's so good in fact, it has won two gold stars in the Great Taste Awards 2008. Alternatively try the raspeberry Framboise drizzled on some ice cream. Both are made from fruits grown on her Herefordshire farm and can be bought here www.britishcassis.co.uk.
Here are a couple of cocktail recipes to get you started:
Jo's Cassis Tequila
Ingredients:
1 part tequila
1 part Jo HIlditch Cassis
1 part lemon juice
Method:
Shake ingredients up with ice
Kir Royal
Ingredients:
Jo Hilditch British Cassis
Champagne
Method:
Add the blackcurrant cassis to a chilled champagne flute.
Add the champagne while stirring with a cocktail stirrer to mix the two
Serve immediately
Jo's Cassis Fizz
Ingredients:
2 oz. Gin
0.5 oz. Jo Hilditch Cassis
0.5 oz. Lemon juice
1 tsp. Sugar
4 oz. Soda water
Method:
Pour Gin, Lemon Juice, and Sugar into shaker.
Fill a Collins glass almost full of ice cubes, and dump ice into shaker.
Shake well and pour drink into Collins glass. Add Soda and stir well.
Drop the Jo Hilditch British Cassis into the centre of the drink, and do not stir.