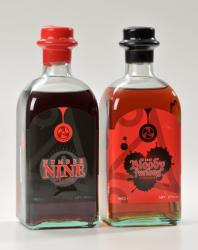 Based in Worcestershire, Celtic Marches Beverages take their name from the civil war and the border battles that went on, in days gone by, between the English and Welsh. Drawing on a long history in cider production, Celtic Marches has created two liqueurs, both brandy based. The 'Bloody Furlong', flavoured with apple and maple and the 'Number Nine Liqueur' flavoured with apple and blackcurrant. Each of these liqueurs is made from fruit grown on the family owned farm where the liqueurs are produced.
Number Nine Liqueur is so named because the Celts believed that 9 was a sacred number and that apples had magical qualities, the name harks back to those battles between the English and the Welsh. The Bloody Furlong is named after one of the farm's orchards, which was planted on the site known by that name since it was the scene of a fierce battle between Charles I and Cromwell's Roundheads.
So, to the drinks, The Bloody Furlong is a deep amber drink that has the aromas of brandy, apple and maple, perhaps unsurprisingly, there is also a hint of herb there. As you taste it and allow your mouth to be coated by it, you get good fruity, maple sweetness and round brandy coming through. The liqueur is rich and has a syrupy mouth coating consistency leaving you with a good length of flavour after you swallow, as well as the merest hint of peppery heat in its finish. The Bloody Furlong retails for £18.99 for a 50cl bottle.
The Number Nine Liqueur is a lovely ruby red in the glass and it has big blackcurrant aromas as you raise it to your nose. On the palate there is good blackcurrant and apple and some nice tangy acidity. The brandy balances its rich sweetness well, giving the drink warmth and a rounded depth, the Number Nine Liqueur also has a hint of pepper in its finish and this retails for £16.99 for a 50cl bottle.
Having sampled these straight, on more than one occasion – they are very moreish – we decided to see how they would work with mixers or as a cocktail. We thought each of these drinks worked well in four different ways.
Over ice, with a splash of sparkling water (to taste) and a twist of lemon, which we thought would make a great summer drink.
In a vodka martini, using the merest dash of dry vermouth, 6 parts vodka to 1 part liqueur, shaken well with ice then strained into a chilled martini glass with a twist of lemon.
As a 'kir' using about a 1:8 ratio of liqueur to well chilled Cava, Prosecco or Champagne.
The 'simple serve' neat over ice.
These are drinks that you could have fun experimenting with. As an experimental cook myself I could well see that each liqueur would make a good flavouring for an uncooked cheesecake, though you would have to fold it in at the end to prevent curdling. Or, perhaps, in a decadently adult trifle, using the Number Nine Liqueur to macerate soft fruits before tumbling them onto sponges, then covering with creamy custard and topping off with cream. This would be enhanced by being decorated with some of the boozy fruit, of course! Let your mind run riot.
To find out more about these two new liqueurs and how to purchase them visit the Celtic Marches site.
Celtic Marches Beverages Ltd. Wyer Croft, Bishops Frome, Worcester, WR6 5BS.