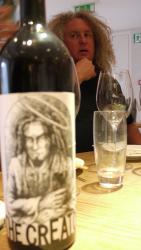 Because of his website's dim catchphrase, 'It's just booze – drink it!' I anticipate American, Charles Smith might seem loutish. Rather than produce and promote anaesthetics, I believe this distinctive winemaker's resolute coolness is actually his way of disarming drinkers paralysed by European jargon and pretensions. That is not to say he is disinterested in Europe. Indeed, despite being unable to satisfy the demands of a thirsty home market, he craves UK presence. This he qualifies with rude flattery: 'you're my people, you like to drink…'
Beyond his wines' tawdry packaging (labels are drawn by a Dane who designed for Levi), Smith's persona is a product of 10 years of short days and longer nights managing bands. But his gleaming 'Roller' must look incongruous purring the back roads of Walla Walla now, a 'very rural' enclave of south eastern Washington State. However the qualified intent of what well known critics call a 'genius winemaker' does seem serious beyond his dense facade. Long before the bands, he worked as a waiter, jealously observing sommeliers and their knack of attracting 'tips and tricks'. Soon he subscribed to their ranks, gaining exposure to the likes of Salon Champagne. Indeed, over lunch he bragged about sipping only the best vintages: '61, '64, '71 and '76.'
Sporting sunglasses despite Blighty's advanced autumnal gloom, with signature unkempt mane flapping, Smith held court at Nobu, Berkeley Street, which serves his favoured Asian fusion cuisine. He would later decamp to East London's Hawksmoor for lobster and steak via an attempted linner (that moment hovering lunch and dinner) at The Square (alas, the sleek reservationist rendered him meek as a moulting mouse when issuing a verbal closed sign) and pilgrimage to St. John. Ranging from extremely showy to utilitarian restaurants, this trajectory captured Smith's unsettled demeanour.
Seeing as Nobu is synonymous with fish, I was disappointed to see the back of Kung Fu Girl '09 long before the first fish dish landed. Drawn from an ice bucket styled as a jet engine, this affordable Rheingau inspired riesling proved pretty, poised and long-lived. But I need not have worried. Unnervingly, even Smith's heartiest reds worked with Nobu's gentlest fish dishes, offered, unpredictably, with notably poor quality chopsticks. Here are the highlights.
Arranged as a fish, tender yellowtail sashimi was spiked with the smoothly rising prickle of jalapeño then cooled by a deceptively translucent, umami laden sauce. Alongside, '09 K Viognier which Smith said 'gets leaner every year' actually felt borderline anorexic – a straightjacketing appeasement to European critics, perhaps? On the dumb nose, I found a hint of Radox Tropical Tranquility Shower Smoothie (what can I say, it was present) followed by nearly nil discernible texture.
A dish which mirrored Smith's hair was the leafy, bitterly citrus pepped tangle which hid appearances by cold lobster and shitake. Alone, pert lobster pieces verged on flavourless. However when combined with a trio of rich, salty dips, identity was gained. Deliberately chilled as the dish, '08 K Syrah 'Millbrandt' worked startlingly well on account of its barely distinguishable, but not undistinguished tannins. Suggestive of a wine soup, its accessibility – as other reds by Smith – is a product of fermentation under airtight Plexiglass (the material that veils bus drivers). This interpretation of 'carbonic maceration' sweetens tannins without conferring the bright bubblegum notes of Beaujolais. Balance being the word, I didn't sense its high ABV until my head thumped the following morning.
Fittingly, rare wagyu tataki echoed the silky texture of Syrah The Deal '08. Poured from a vase (perhaps the restaurant had exhausted its decanters) this delivered a burst of berries like a bitten lozenge. Again striving to court European critics, Smith insisted there was a hint of Burgundian bloodiness/gaminess in its finish, which evaded capture by me.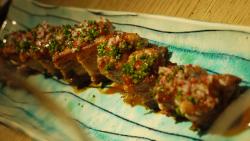 The dish that made lunch delivered what gourmand, Gareth Groves of importer, Bibendum described as 'a concertina of crunch'. Mille-feuille of pork belly was near deviant in its deliciousness, my tongue rushing to greet every onion crisp topped, supple centred morsel which culminated in fatty syrup. Biodynamically extracted from a dry riverbed came more alcohol – Cabernet Sauvignon/Syrah, 'Ovide' en Cerise '08. A wisp of hemp smoke segued into a long draft of cassis.
Finally, Heart Syrah '07 came from what Smith originally described as a 'neutral' barrel, 'third fill or over'. Another luncher joked that that must be 'the Switzerland of barrels'. Rather than a warm hearted or even neutral label, the black heart pierced by a sword seemed more coaxing of a heart attack. Why, I wondered, would a talent hide such an elegant, smooth, again balanced wine behind such drastically juvenille packaging?
Because the wines are a self-portrait.
Regardless of my thinking, almost on cue, the sommelier delivered a polite request from civilians opposite for a taste of this 'amazingly labelled' wine…
I sought solace in a tuna, salmon and seaweed cornet.
Bibendum are UK importers of Charles Smith/K Vintners. As we lunched, a container of K Syrah crossed the Atlantic.