Chateau Civrac has been the dream venture of Mark and Sarah Hellyar from Cornwall. Their vision was to create a modern Boutique wine in Bordeaux's right bank that combined the qualities of traditional Bordeaux with the spirit of the New World. I'm told that Chateau Civrac is made 'with respect for nature' and that the grapes are hand harvested with a view to getting the best flavours. Described as a 'new Claret' Chateau Civrac is an unfiltered wine made from a blend of Merlot, Cabernet Sauvignon and Malbec grapes and is matured in new oak barrels, to minimise any chemical treatments. I understand that the wine features on the wine lists of some of the acclaimed restaurants in the UK including Le Gavroche and Gidleigh Park.
I sampled Chateau Civrac recently and on pouring a little into the glass it gave off aromas of forest fruits, notably blackcurrant and blackberry, there is also a slight fruity sharpness on the nose. It's a beautifully deep dark red wine and as you drink it you get a fruity acidity on the palate with blackberry and blackcurrant flavours coming through. It's a medium bodied red that has length on the palate and medium tannins. Having tried the wine on its own we had it with some lasagne, just what I happen to have prepared to eat that evening and the food softened the tannins in the wine completely. This is a wine that works really well with food, the label suggests red meats and hard cheeses and I wouldn't disagree.
Chateau Civrac can be purchased on line at www.civrac.com and from a number of stockists including The Sampler in Islington at a RRP of £13.99.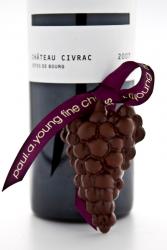 Award winning chocolatier, Paul A. Young has worked with Chateau Civrac 2006 to produce a unique chocolate. Fittingly in the shape of a bunch of grapes, Paul has created the confection using a 64% Madagascan Grand Cru dark chocolate, Chateau Civrac and a touch of organic unrefined sugar. The attractive creation's shell of dark chocolate has a fruity aroma. In the mouth you get the intensity of the 64% chocolate with a clean fruit tang. There is a firm ganache centre to it that seems to have an even more intense fruitiness. It's divinely and intensely decadent and would make an ideal gift for any chocolate lover.
The chocolates each cost £3.95 and can be purchased from Paul A.Young chocolate boutiques in Islington and at the Royal Exchange.
For further information about Chateau Civrac, or to order direct from the producer, go to www.civrac.com
Paul A. Young can be found at 33 Camden Passage, Islington, London N1 8EA and 20 Royal Exchange, Threadneedle Street, London EC3V 3LP and for more information about his products go to www.paulayoung.co.uk